Calls have been made for financial aid to be made available for businesses counting the costs after severe flooding impacted the eastern half of Northern Ireland.
Downpatrick, Newry, Kilkeel and Portadown are among the areas worst hit following heavy rain earlier this week.
On Friday morning, the Department for Infrastructure said water levels in most areas were starting to recede and recovery operations were under way in Newry and other locations.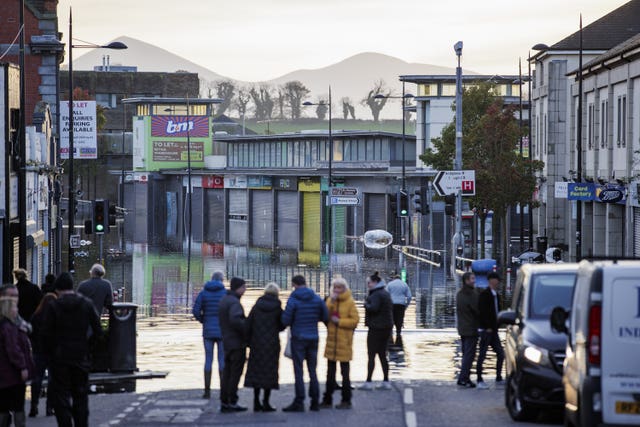 It said River Bann levels are also falling, which should lead to an improvement in conditions in Portadown over the next couple of days.
However, they described watercourses as remaining "stubbornly high" in the Downpatrick area, which has had an impact on the viability of beginning planned pumping operations.
"Preparation works ahead of the major pumping operation within this extremely challenging environment are underway and, as indicated on site with elected representatives and traders yesterday, efforts to remove flood water from Market Street will depend on how natural water levels recede and how effective our works today will be," it said.
"Every effort is being made to begin pumping as soon as possible, as the department and our multi-agency partners are keen to do all that we can to reduce the impacts of the flooding in Downpatrick."
Sinn Fein MP for South Down Chris Hazzard told the PA news agency he would be travelling to London on Monday to make the case to the UK government for a "significant recovery package".
"You see the situation in the South, the Irish government have made 10,000, 20,000, right up to 100,000 euros available for those that has been affected by flooding in the South. It's going to take something similar here," he said.
"When you consider a local business here is maybe under four, five, six feet of water, even to get that unit dried out is going to take weeks,
He added: "2000 pounds or 5000 pounds, well that's good to get some equipment to help the team up, that is not going to get a business back on it's feet.
"Downpatrick town centre is a number of local independent retailers. They're the heart of our community. They've been here for decades, sometimes generations.
"These shops will not reopen again unless we get a significant recovery package in place and that's what we're making the case for."
SDLP MLA Colin McGrath has urged the Secretary of State Chris Heaton-Harris to visit flooded areas and move to provide financial aid for businesses with damaged properties.
Alliance MLA Eoin Tennyson also urged Mr Heaton-Harris to intervene.
"It is clear the support schemes currently available do not touch the sides of the scale of the challenge facing the areas affected," he said.
"In the absence of ministers, the Secretary of State must now take steps to introduce business recovery and property flood resilience grants. Our high streets will also require clear recovery strategies to ensure local businesses can rebuild and repair from this devastation."
Stormont government departments are working to assist those impacted by flooding.
However, senior civil servants leading departments have restricted powers to act in the absence of locally elected ministers in post.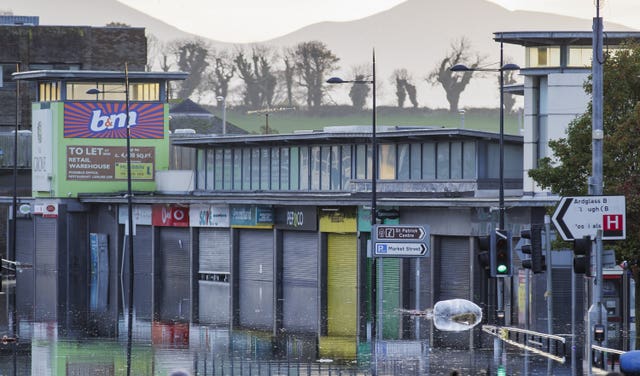 The Stormont Assembly has been collapsed for more than a year amid DUP protest action over concerns around post-Brexit trading arrangements.
An existing programme is in place to help home owners with flood damage.
But Retail NI and Hospitality Ulster have said there is no financial aid available for businesses.
In a joint statement, they have urged Mr Heaton-Harris to provide an immediate funding package to support businesses who have suffered damage because of the recent flooding.
Retail NI and Hospitality chief executives Glyn Roberts and Colin Neill said many businesses may not survive without support.
"At present no financial aid is available for businesses that have been wrecked because of the flooding," he said.
"We have engaged with the Department of Finance on rates hardship but it is nowhere near the type of help these businesses need."
"Why is it business flood victims in the Republic and elsewhere in the UK can receive financial help but in Northern Ireland they receive nothing?"
"The Secretary of State needs to bring forward a financial package which will help these businesses get back on their feet again.
"Unless this is brought forward then many of these businesses and the jobs they support will be gone well before Christmas."
A Northern Ireland Office spokesperson said: "The UK Government is in close contact with the Northern Ireland Civil Service regarding the severe flooding across the region.
"Whilst this is a devolved matter for the relevant NI departments, we will continue to work closely with the NI Civil Service in the days ahead."