Lioness Bethany England has told how her family has been "riddled" with cancer ahead of a campaign to raise funds to accelerate new treatments for the disease.
The 29-year-old England striker and Tottenham captain said cancer first came into her life as a young child growing up in Barnsley, South Yorkshire.
Her aunt, Tracy Fletcher, was diagnosed with leukaemia and died in her early 40s.
"We've got a lot of cancer on both sides of my family, my mum's and my dad's side," she said.
"My mum ended up giving my aunty a bone marrow transplant – it was a huge thing at the time. That gave her a few more years of life but sadly, in the end, her body rejected what mum had given her and she passed away aged 42.
"It was really sad to see my mum go through losing her sister after everything she'd done to try to help save her life."
Ms England also lost her grandfather to skin cancer, while her great-grandmother died of throat cancer.
Her two grandmothers are survivors of the disease, while another aunt also had breast cancer.
"Cancer is riddled through our family unfortunately," she added.
According to Cancer Research UK, more than 375,000 people are diagnosed with cancer every year in the UK.
Its campaign with Channel 4, Stand Up To Cancer, aims to raise funds to accelerate research into new treatments in a bid to save lives.
Fellow Spurs player Kit Graham, 27, revealed her sister Kelli was diagnosed with a very rare cancer at 24.
"I think I heard the word 'cancer' and just kind of shut down," she said.
"But thankfully Kelli had surgery and radiotherapy and she is here with us still. So thankfully that is a good cancer outcome."
Ms Graham's grandfather John lived with the disease for 15 years and her nan Sylvia was recently diagnosed with skin cancer.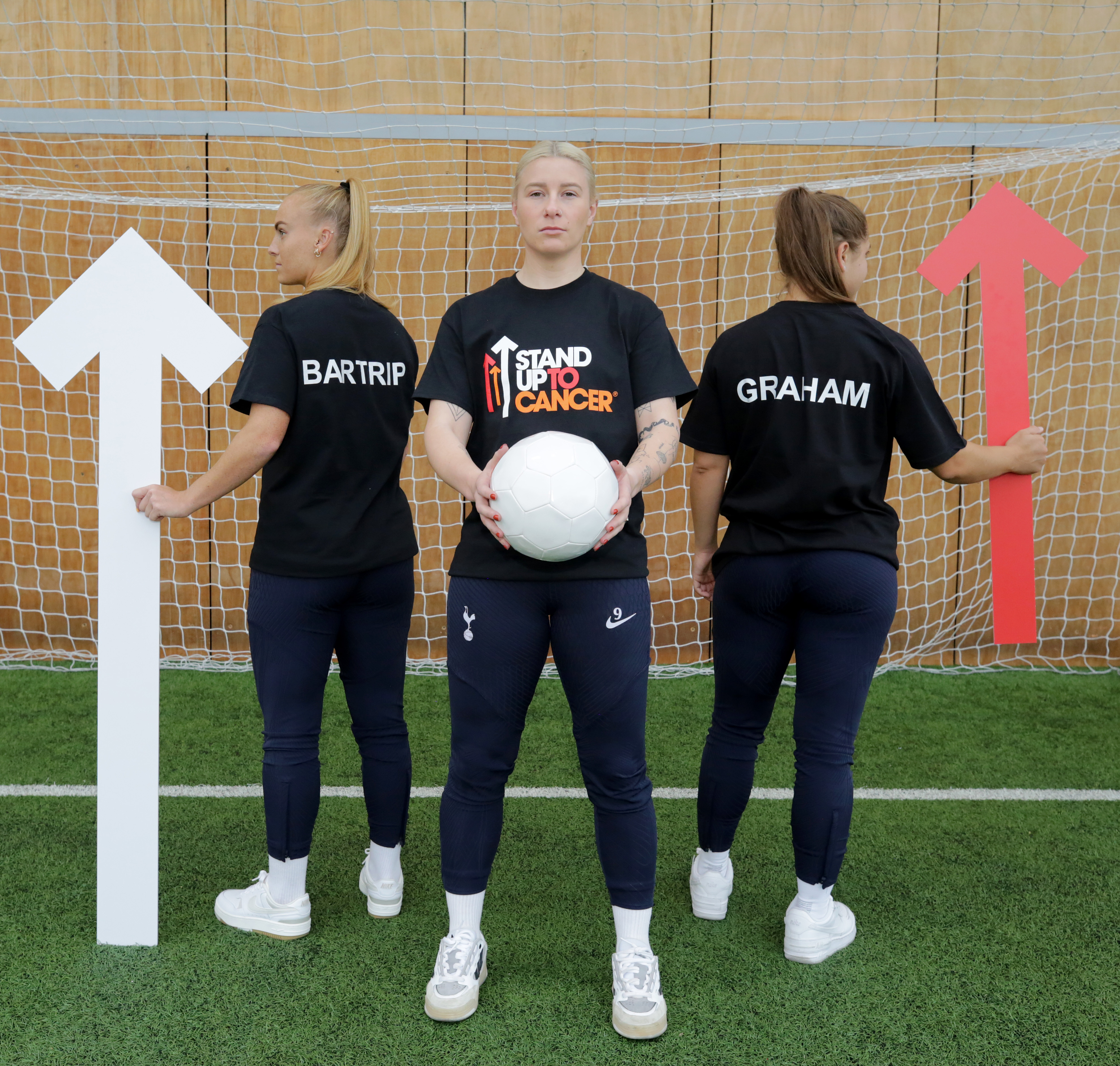 "Thankfully my nan had successful surgery so hopefully she will get the all-clear soon," she said.
Spurs vice-captain and defender Molly Bartrip, 27, also backed Stand Up To Cancer.
"Cancer is one of the big ones – it's the scary 'C' word," she said.
"The research that's being carried out to try to prevent and treat this disease is amazing so we need to keep supporting it and donating."
Speaking on behalf of Cancer Research UK, Lynn Daly thanked the footballers for their support.
"It's thanks to all our supporters – sports stars, celebrities and 'ordinary' people up and down the country – that our researchers are working tirelessly to help more people survive – from developing a molecule to super-charge the immune system to attack tumours, to reprogramming viruses to seek and destroy cancer cells," she said.
"But we must go further and faster. One in two of us will get cancer in our lifetime. All of us can help beat it.
"That's why we're asking everyone to stand up to cancer with us. Whether it's choosing to donate, fundraise, or tackle our squats challenge, if thousands of us take a stand, we'll speed up the progress of vital research – meaning more people live longer, better lives, free from the fear of cancer."
The Stand Up To Cancer campaign will culminate in a night of live television on Channel 4 on Friday November 3.