Royal Navy sailors and Royal Marines have been undergoing final rehearsals ahead of the Remembrance Sunday service at the Cenotaph in London.
Warrant Officer Darren "Eddie" Wearing, state ceremonial training officer (SCTO), has been putting his troops through their paces at HMS Excellent on Whale Island, Portsmouth, for the last time.
He is stepping down from the role he has held for the past eight years which has involved training and preparing for major national commemorations including the Queen's funeral, the coronation of King Charles and Queen Camilla, as well as annual remembrance services.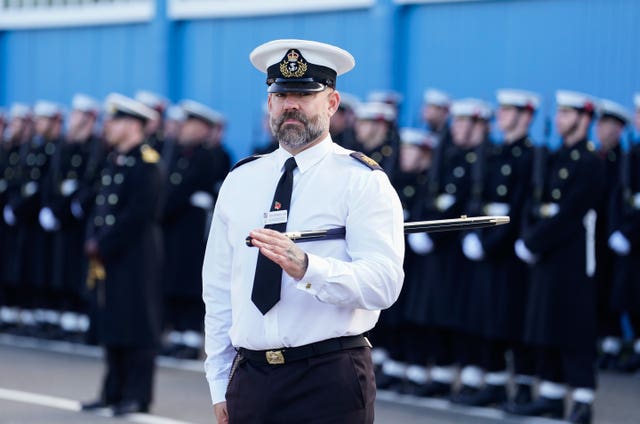 He said: "Remembrance 2023 is my last duty as state ceremonial training officer for the Royal Navy.
"Having been in the role since 2015 this is quite emotional for me.
"As always, I'm honoured and privileged to be a part of Remembrance, but it's definitely going to be an emotional weekend."
WO Glynn Moffatt, who will be taking over the role, said: "It's big shoes to fill.
"I've been shadowing the current SCTO for about 12 months now, and so have been involved in all the events over the last year, which has absolutely set me up for taking over the role.
"I'm really looking forward to it and have a great team behind me."
About a fifth of Royal Navy personnel, amounting to 4,850 sailors and 1,500 marines, will be involved in remembrance events around the world.
A Royal Navy spokeswoman said: "As well as remembering all who have lost their lives in the name of their country, those parading will be honouring the 29 members of the Royal Navy family who have died while serving over the past 12 months.
"A 15-strong contingent from the Royal Fleet Auxiliary – responsible for support ships crucial to the Royal Navy's global operations – will also be taking part in next week's events."