Extending the powersharing impasse in Northern Ireland into next year is an "unthinkable" prospect, Sinn Fein leader Mary Lou McDonald has said.
Ms McDonald said the public's patience with the DUP had "worn out" and claimed the unionist party's boycott of devolution had "run out of road".
Sinn Fein's vice president Michelle O'Neill said the severe flooding in parts of Northern Ireland this week underlined the need for a return to devolved government, as she blamed DUP "messing around" for complicating efforts to get support payments to those worst affected by the floods.
The political leaders were speaking to the media in Belfast on Friday afternoon.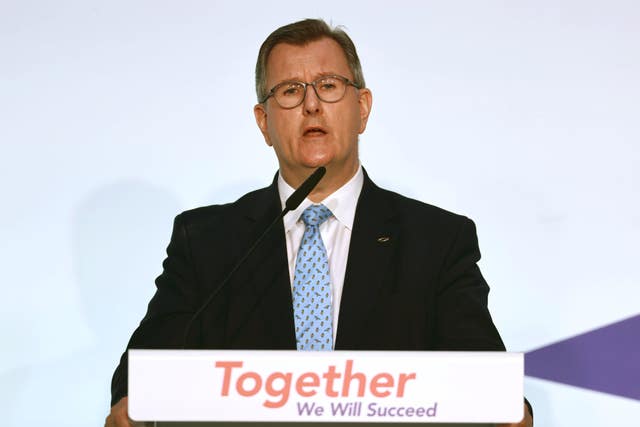 On Wednesday, DUP leader Sir Jeffrey Donaldson said he could not be certain that powersharing will return by the end of the year.
Sir Jeffrey had said in recent weeks that the UK Government was "moving closer" to addressing his party's concerns over post-Brexit trading arrangements in Northern Ireland, and that the coming weeks would be "vital".
Northern Ireland Secretary Chris Heaton-Harris had claimed talks aimed at securing a DUP return to devolution had moved into a "positive space" after "long" discussions over the summer months.
However, on Wednesday Sir Jeffrey cautioned that there are still "significant" gaps that require a resolution before a proposal could be presented to his party.
The DUP withdrew from the Stormont institutions last year in protest against the internal UK trade barriers created by the post-Brexit Northern Ireland Protocol.
Powersharing is unable to function in Northern Ireland without the support of the region's largest unionist and nationalist parties.
The UK and EU agreed the Windsor Framework earlier this year in an attempt to address unionist concerns about the protocol, but the DUP has indicated it will not return to the Stormont Assembly until the Government provides further assurances over Northern Ireland's place in the UK.
"People have been patient, that patience has now worn out, it has run out," said Ms McDonald.
"The idea that we would move from 2023 into 2024 and still not have an executive and an Assembly up and running is, for us, unthinkable.
"That's not an acceptable position. So let us say this – we have to advance in a way that is optimistic, that is grounded in the realities of people's lives, and I am conscious that there are communities now who have been suffering the aftermath of flooding, who are working in a desperate situation, and I don't think it's acceptable for those families, those communities, to hear anybody say 'Well, we're not going to have government'."
The Sinn Fein leader added: "I have to say, quite frankly, this has run out of road and people now need to roll up their sleeves and get back to work. We remain absolutely committed to and convinced that government can be restored quickly. The talking has been done. The patience has been displayed and now we're at this point, it's the decision point now, so we don't foresee any situation in which rolling into 2024 without government would be acceptable at all."
Ms O'Neill said waiting until the new year for Stormont to return would be "totally unacceptable".
"I think if you ask the people in Downpatrick or you ask the people in Newry who are dealing with the aftermath of the flooding situation, and no executive being in place to be able to help them to get through this time, it's not good enough, not good enough for those people who need all the political parties working together, facing out to help them right now," she said.
"So I don't think it's acceptable for the DUP to advance that position. People have been more than patient, everybody's given space, but the Windsor Framework is now closed, it's done and dusted. So, they now need to return to the executive and get down to business with the rest of us. We're ready and have been ready for the last 18 months.
"I don't think it's conscionable at all for them to advance that position. I think the next couple of weeks is the juncture in which we need to move, and the DUP need to stop messing around and actually get round the executive table with everybody else."