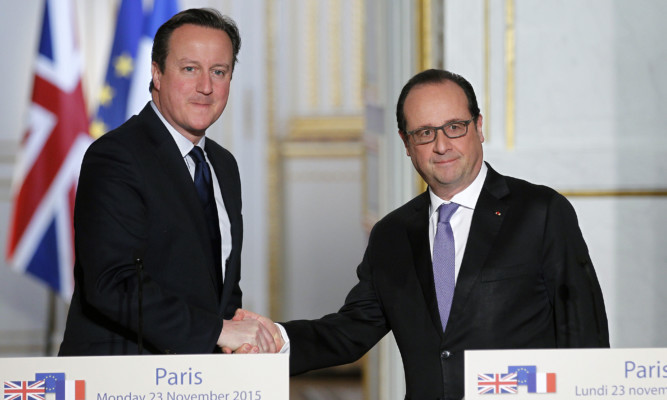 David Cameron has vowed Britain will do "all in our power" to support France in its fight against Islamic State in the wake of the Paris terror attacks.
Following talks in the French capital with president Francois Hollande, the Prime Minister said he would set out the case for extending RAF air strikes against IS – also referred to as Isil – into Syria in Parliament later this week.
Standing alongside Mr Hollande in the Elysee Palace, Mr Cameron declared: "The United Kingdom will do all in our power to support our friend and ally France to defeat this evil death cult.
"I firmly support the action that President Hollande has taken to strike Isil in Syria and it is my firm conviction that Britain should do so too."
In advance of the Commons statement, expected on Thursday, Mr Cameron said he had offered the French air force the use of RAF Akrotiri on Cyprus to mount strikes on IS as well as RAF air-to-air refuelling support.
Mr Hollande welcomed the British support and said it was essential to strike IS in its heartlands in Syria.
"France has taken the decision last September. It is up to the United Kingdom how it can commit and operate," he said.
"We will intensify our strikes, we will choose the targets that yield the best possible damage against the terrorist army."
In London, Defence Secretary Michael Fallon indicated the Government would not move to an immediate Commons vote after Mr Cameron's statement responding to the recent Foreign Affairs Committee report on military intervention in Syria.
He reaffirmed that ministers would only go to the House once they were sure there was a majority in favour of military action.
"There are a lot of new MPs and we have to make our case to them. Understandably they want to be sure that there is a political track to this as well," he told BBC Radio 4's Today programme.
But with signs that a growing number of Labour MPs are prepared to ignore the objections of party leader Jeremy Corbyn and support the Government, ministers appear increasingly confident they can win a vote.
Following Friday's vote in the United Nations Security Council calling for renewed action against IS, shadow defence secretary Maria Eagle suggested Mr Corbyn could change his mind and vote in favour.
She told the Today programme: "My understanding is he is not a pacifist and that means that it is conceivable."
The Democratic Unionists are also reported to support air strikes, although the SNP's foreign affairs spokesman Alex Salmond said they were yet to be convinced.
"There's no shortage of people bombing Syria at the present moment. What there is a shortage of is a coherent policy to bring about peace in Syria in a rapid time-scale," he told BBC Two's Victoria Derbyshire programme.
In Paris, Mr Cameron and Mr Hollande paid an emotional visit to the Bataclan concert hall, where scores of people were killed in the terrorist onslaught 10 days ago.
In their talks afterwards, both men stressed the need for improved security and intelligence-sharing across the EU to counter the threat from extremists returning to Europe after fighting in Syria and Iraq.
"This requires a pan-European effort. We need a stronger external EU border to protect our security more effectively," Mr Cameron said.
Meanwhile Belgian police arrested 16 people in a major anti-terror operation, but on-the-run Paris attacker Salah Abdeslam remains at large, a federal prosecutor said.
No arms or explosives were found in 19 raids across Brussels – including the Molenbeek area from where the Paris attack was planned – or two in Charleroi, they said.
The city remains on high alert over fears of a Paris-style IS attack. Schools, universities and the underground system will remain closed and some workers have been advised to stay at home while key suspects remain at large.