An independent lawyer or retired judge should be appointed to filter out journalistic material unnecessarily held by police investigating two documentary makers in Northern Ireland, their barrister said.
Trevor Birney, 51, and Barry McCaffrey, 48, were released on bail on Friday evening after being detained for 14 hours for questioning over the alleged theft of confidential material from a police watchdog.
Barry Macdonald QC said officers who searched the Belfast offices of their company, Fine Point Films, had retained material which was not within the scope of their investigation.
He said: "Police seized a vast quantity of journalistic material that has absolutely nothing to do with the investigation.
"This application gives rise to serious issues concerning freedom of the press and the use of police powers which have been used to intimidate journalists and inhibit journalists."
The Police Service of Northern Ireland (PSNI) asked Durham Police to conduct an investigation into how material held by the Police Ombudsman for Northern Ireland ended up in the reporters' documentary on the notorious Loughinisland massacre of 1994.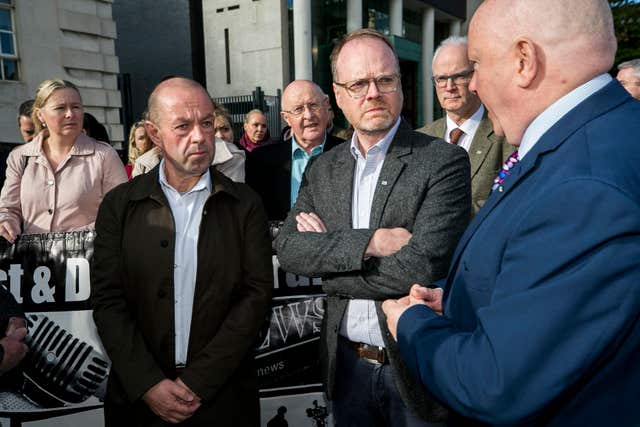 With the No Stone Unturned film exploring persistent claims of security force collusion with the loyalist paramilitaries who murdered six men in
the Co Down village, PSNI chief constable George Hamilton called in an external force to probe the theft allegations, citing potential conflict
of interest concerns.
On Friday, members of the National Union of Journalists (NUJ) held a demonstration outside the High Court in Belfast in support of their colleagues.
Mr Macdonald suggested a "mutually acceptable" independent lawyer or retired judge could be appointed to examine material held by police and filter out that which could not be covered by the search warrant for the company's property.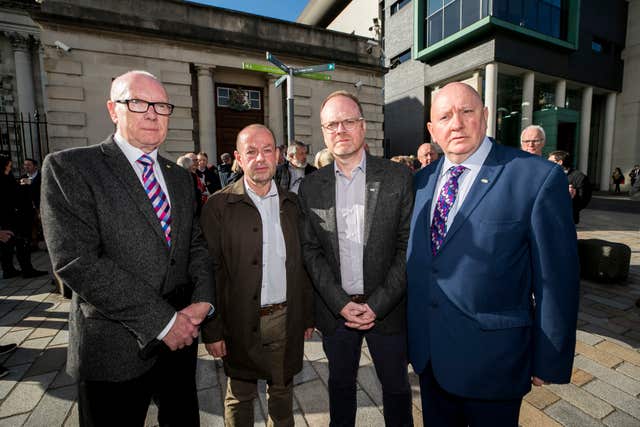 He said that would give space to deal with the other materials in a more orderly fashion, and urged a "pragmatic" solution to be agreed with police.
Detectives have already undertaken not to examine any of the material following earlier court action, but Mr Macdonald said the status quo meant they possessed information they should not have and this lent urgency to his application.
Peter Coll QC, for the police, is awaiting instructions from his clients.
He told the court: "Police have not had access to any of the material, the material has not been processed.
"Had it (the legal order) not been in place much of the material may have already been returned to Fine Point Films."
The six men murdered when Ulster Volunteer Force gunmen opened fire inside the Heights Bar in Loughinisland in June 1994 were football fans who had gathered to watch the Republic of Ireland play in the World Cup.
The 2017 documentary by Mr Birney and Mr McCaffrey broke new ground by publicly naming those it said were suspects.