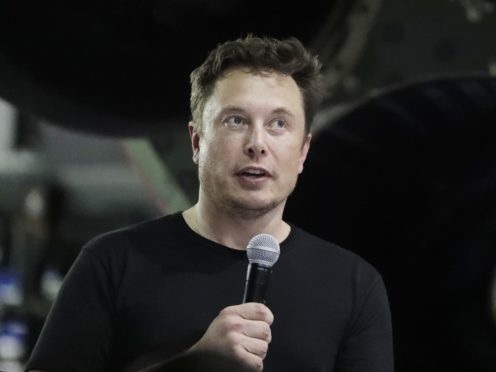 The Japanese online retail tycoon who plans to travel to the moon on the SpaceX rocket says he respects and trusts Elon Musk as a fellow entrepreneur, despite his recent troubles.
Yusaku Maezawa, chief executive of Zozo, said at the Foreign Correspondents' Club in Tokyo: "Twitter can get you into trouble.
"And that can be said of Elon Musk, too."
Mr Musk's tweet in August declaring that he had secured financing for a Tesla buyout got him in trouble with the US securities and exchange commission.
Under a settlement, Tesla and Mr Musk each must pay a 20 million US dollar (£15 million) penalty. Mr Musk also stepped down as Tesla's chairman.
Mr Maezawa, 42, who is also quite active on social media and is estimated to be worth £2.2 billion, is set to be a passenger on Mr Musk's Space X, the first-ever private commercial space trip, scheduled for blast-off in 2023, to orbit the moon, in what Mr Maezawa has dubbed his "#dearMoon Project".
The entrepreneur said he got a good feel for Mr Musk's character by visiting Tesla, and seeing the relationship Mr Musk had developed with his employees.
"They believe in Elon Musk," he said. "That kind of company is marvellous. I felt that as another entrepreneur."
Although Mr Maezawa said nothing was decided yet on who was going with him on the space travel, he said he wanted to take visual artists, fashion designers and musicians from a variety of backgrounds, including the actress he was dating, Ayame Goriki, "if she proves to be a good match for the mission".
Mr Maezawa said his company has a Twitter policy, and experts go over his tweets in advance. Sometimes he gets emotional on social media, but he is careful not to say anything that might hurt his company, he said.
Recently, he took to his twitter and Instagram accounts to lash out at online hecklers, who had ridiculed his halting rendition of "Twinkle, Twinkle Little Star" on an expensive Stradivarius violin he had just purchased.
Maezawa is known for lavish purchases, including artworks by Jean-Michel Basquiat and Andy Warhol. But he is equally known for sharing them with the public.
He shrugged off the possible dangers of space, just as he brushed off the risks of tweets and associations with Mr Musk.
"There is no end if you start thinking about that," he said of the risks.