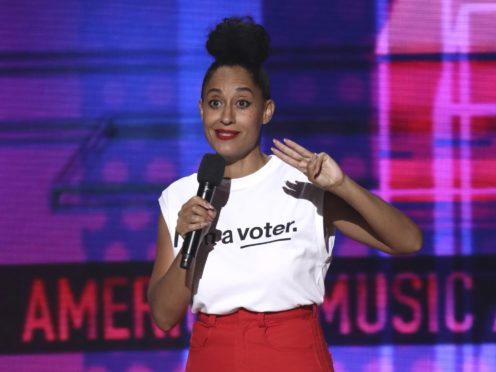 Fans were urged to vote at the upcoming US midterm elections during a passionate plea at the American Music Awards (AMAs).
The furore surrounding Brett Kavanaugh's nomination to the Supreme Court following allegations of sexual assault has added to the febrile atmosphere in US politics, with many describing November's elections as the most important in a generation.
Taylor Swift was the latest star to voice her concerns, breaking her long-held silence on political matters to announce she would be voting for the Democrats.
It led to Donald Trump saying he now likes her music "25% less".
During Tuesday's AMAs, American Horror Story star Billy Eichner was on stage introducing the award for favourite artist in the adult contemporary category when he launched an impassioned plea to the audience.
He told those watching at home, as well as those inside the Microsoft Theatre in Los Angeles, that they should register to vote if they cared for "equality for women, for people of colour, for the LGBTQ community, if you believe that climate change is real".
The speech was welcomed by loud applause while host for the evening, American comedian Tracee Ellis Ross, wore a T-shirt bearing the slogan "I am a voter".
Canadian singer Shawn Mendes won the favourite contemporary artist gong.
In an Instagram post on Sunday, Swift said she felt compelled to speak out because she believed in "the fight for LGBTQ rights" and that "any form of discrimination based on sexual orientation or gender is WRONG".
She added: "I believe that the systemic racism we still see in this country towards people of colour is terrifying, sickening and prevalent."