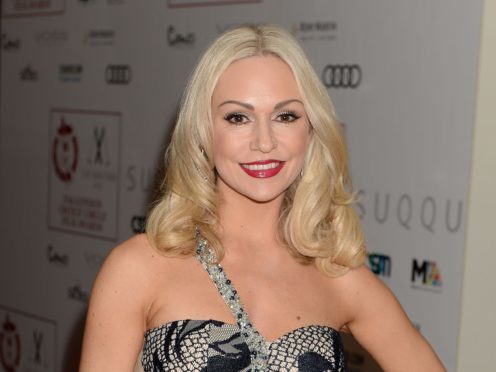 Former Strictly Come Dancing star Kristina Rihanoff has said she does not think Seann Walsh and Katya Jones should have apologised for their kiss on spin-off show It Takes Two.
Comedian Walsh and Jones appeared on the BBC Two programme on Wednesday to address the kiss, which had resulted in Walsh being publicly dumped by his partner Rebecca Humphries, and which also prompted speculation around Jones's marriage with Strictly dancer Neil Jones.
Rihanoff told BBC Breakfast, of the pair's highly-anticipated dance on Saturday's programme: "They have to be professional.
"They are performers at the end of the day, and they have to put all of this aside, and let's face it, there are much more difficult situations… last year, Alexandra Burke danced and her mother passed away, and I'm sure that was a real, real struggle to get herself together.
"So yes, it's been a terrible week but they have to get themselves together, and I don't think It Takes Two was the right programme to say sorry.
"The show is about dancing, not about private lives. They apologised on social media and I'm sure in private to all the partners involved, so I can't really understand why the subject was brought up on It Takes Two."
Rihanoff, who appeared in the BBC One show from 2008 until 2015, said that she hopes viewers judge Walsh and Jones for the routine rather than the events of the past week.
She said they will be under "lots of pressure", adding: "At the end of the day, they are hired to do a job, they are both under contract, and they have to perform and the show is about dancing, it isn't about personal lives, so they have to go out and I hope they'll perform their best tonight, and if they will be eliminated, let it be.
"However, I wish for them to go and to do the best they can possibly do."
The 41-year-old dancer said the public will have the "upper hand" in whether they stay or leave this weekend, and recalled when she and political broadcaster John Sergeant were voted in week after week in 2008 to remain, despite poor performances.
She said she does not believe in the so-called Strictly curse, adding: "There are so many other reality shows that brings couples to either go apart, or get together – there's I'm A Celebrity, Big Brother. I just think Strictly is watched by so many more people.
"Statistically people get together at work, and that's where people work."
Rihanoff said she could not see any similarities between Walsh and Jones's situation and that of her own.
She is now in a relationship with rugby player Ben Cohen, who she was partnered with on Strictly in 2013.
They became a couple the following year, after Cohen's split from his wife of 13 years, and in 2016 they welcomed daughter Mila.
"The only parallel is that we met on the show but our relationship developed after the show," Rihanoff said.
"And also I have a family, I have a child and we are a family and that's what matters."
Walsh and Jones will face the scrutiny of the public when they dance a cha cha cha on Saturday night, their first appearance since they were pictured kissing in The Sun newspaper last weekend.
Strictly Come Dancing is on at 6.40pm on BBC One.