The Duchess of Sussex is "running on adrenaline" during her first royal tour while pregnant but is "feeling pretty well so far".
Meghan's pregnancy was announced by Kensington Palace on the eve of her and the Duke of Sussex's 16-day tour which will take in Australia, New Zealand, Fiji and Tonga.
During a visit to the drought-affected city of Dubbo, the duchess spoke to farmer Emily Carroll about motherhood and made a fuss of her baby Ruby.
The 33-year-old said: "They both had a little tickle with her.
"She's normally in bed at 10.30am but we had to stay up for this. She's done so well.
"Meghan told me that she's feeling pretty good so far, which is great, and that she's running on adrenaline.
"She said they're doing 76 engagements in 16 days, with maybe one rest in the middle.
"They're both great with kids."
The couple swapped the koalas and crowds of Sydney for the rural city in New South Wales, with the palace saying the duke was keen to visit regional Australia.
Dubbo, some 190 miles outside of Sydney, has been stricken by drought but the skies looked ominous during their Wednesday visit.
The welcome was warm, with one pupil reaching out for a hug with the duke as the couple arrived in the city.
Luke Vincent, five, was one of the 150-strong welcome party and went in for an embrace with Harry and stroked the royal's beard.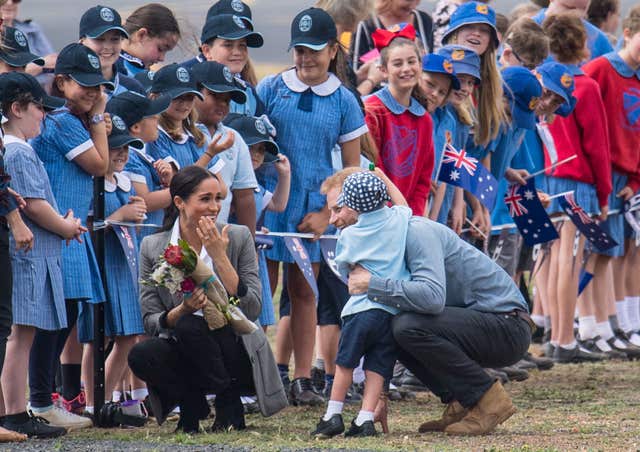 School principal Anne Van Darrel said the youngster was mesmerised with Harry's facial hair.
She said: "He got a hug from Meghan and then Harry bent down to speak to him and Luke didn't give him any choice!"
"Luke's favourite person in the world is Santa Claus, who has a beard. So he rubbed Harry's beard.
"It's been a wonderful experience for these little country kids to meet people they've only ever seen on TV."
Meghan, wearing Outlander jeans, an Australian brand, a Maison Kitsune shirt and Serena Williams Collection shirt, and her husband then spoke to volunteers for the Royal Flying Doctor Service and dedicated a new plane as the service marked its 90th anniversary.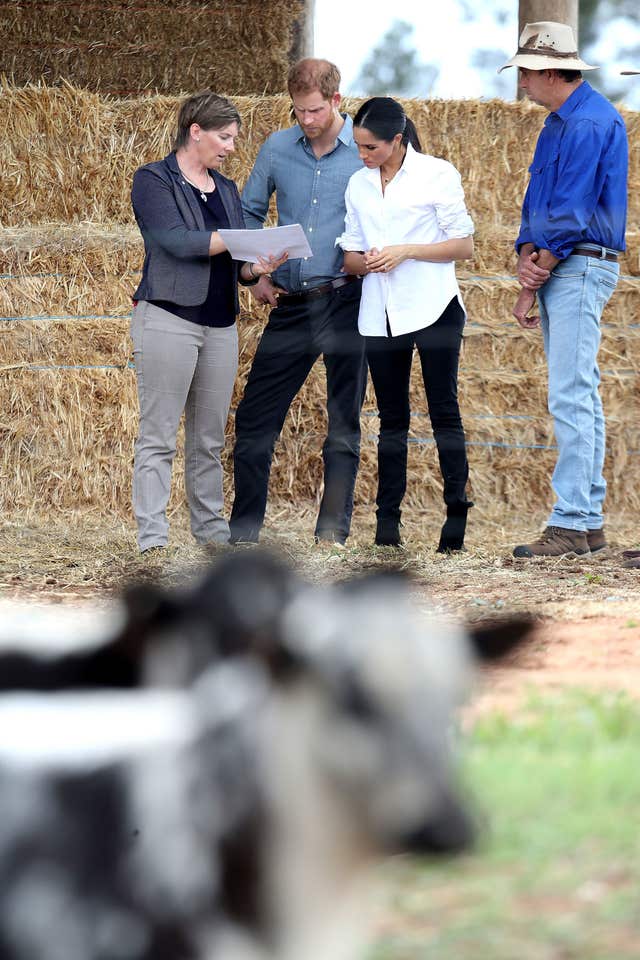 Much-needed rain – which the duke called a "gift" – did eventually fall as hundreds of people came to catch a look at the couple at Victoria Park.
Harry praised the resilience of the city and its people following the barren period during a speech to the assembled crowd.
He joked "I've got my wife" as he was offered an umbrella before taking to the lectern at Dubbo's Victoria Park, as Meghan provided shelter from his side.
"You people are the salt of the earth, hard working and as tough as they come.
"I know that life has not been easy. You have just lived through two years of drought."
To laughter from the crowd, he said: "Despite recent welcome rain, it is going to take a lot more and a long time to recover.
"You are all the toughest people out there, the most persistent, the ones who can weather the storm or the drought."
Should the duke have wished to whet his whistle after getting drenched in Dubbo, he could take advantage of a gift given by 62-year-old Peter West.
The Taree man gave the duke a can of Dubbo Royale – a "special brew" which has been made to mark the royal visit and contains UK lager and American hops.
He said: "It's a mixture from her town in America and his in England.
"It's beautiful. We bought a slab to take home but we had a few waiting here this morning."
The rain put paid to plans of outdoor activities at their last engagement of the day at the Clontarf Academy.
Students had planned to participate in a session of netball and touch football drills on the school oval, highlighting the importance of sport in education.
But as the downpour started, the sports demonstrations were abandoned and the pupils rushed over to meet the royal couple under a covered area.
Harry told pupils at the academy, which aims to improve the life skills, self-esteem, and employment prospects of Aboriginal and Torres Strait Islander young men, about the importance of talking to friends about personal problems.
The duke, who has spoken in the past about his own mental issues, said: "There is a stigma still attached from our parents and grandparents' time not to talk about mental health."