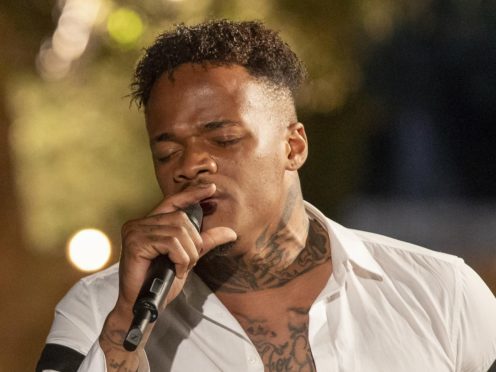 Louis Tomlinson and Simon Cowell have clashed during the first X Factor live show of the series as Cowell voted to send home one of the former One Direction star's choices.
Armstrong Martins, one of Tomlinson's four male acts, departed the show after a tense sing-off with solo vocalist Janice Robertson.
The youth worker was the second act to leave the competition after Olatunji Yearwood, who was ousted after receiving the fewest public votes.
Martins, 23, performed a rendition of True Colours by Cyndi Lauper while Robertson attempted The Climb by Miley Cyrus.
Following the sing-off, Ayda Williams and her husband Robbie chose to save Robinson, who is mentored by Ayda. She told the vocalist she represented "independent single mums out there".
Asked who he was going to save, Robbie Williams replied: "Two extreme talents. I can't believe that either of you are right in front of me right now in this show.
"I'm going to keep it sweet and simple. The act that I'm sending home is Armstrong."
Louis chose to save Armstrong before imploring Cowell to do the same, adding: "I back Armstrong. Armstrong is someone who is a slightly tough person. He doesn't like to talk about things.
"There was a real fight in that performance and I'm so proud of you. Regardless of what happens I am so proud of you. The act that I am sending home is Janice."
Cowell was left with the casting vote and chose to send Armstrong home, saying: "Armstrong, you are interesting. Janice, we have lost you from that first audition when you sang that big hit.
"I'm not saying you have to sing it every week. I'm saying that is not you. However, you are the better singer."
As the Syco label boss paused before delivering his verdict, Tomlinson intervened, telling Cowell to "have confidence" in Martins.
He said: "I would sign him tomorrow, I'm telling you. He's an artist. If you had a meeting with him you would sign him tomorrow. Have confidence."
However, unswayed by the Tomlinson's intervention, Cowell continued: "I'm sending home Armstrong."
Speaking after the show, Martins told the studio audience: "The people always want what they want and fair play."
The X Factor continues next Saturday on ITV and will be themed around guilty pleasures.