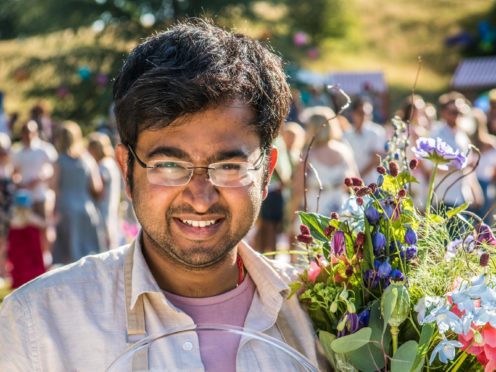 Great British Bake Off winner Rahul has urged more men to take up baking and assured them it is "a science".
The Rotherham-based scientific researcher was crowned Bake Off champion on Tuesday night after a dramatic final which saw a jar shatter, spraying shards of glass across his workbench.
Rahul Mandal, 30, overcame the setback to claim victory, and has urged young men and boys to follow in his footsteps and believe in their ability to bake.
Speaking on BBC Radio 4's Today programme, Rahul said: "I keep my baking quite sciency. I think baking is a science. It's physics, chemistry, everything.
"I just wanted to spread this word to people, especially quite a lot of students. They don't take things up, they might not do home science, they think maybe it's not for them.
"Quite a lot of guys and boys at school, they think they can't bake. Anybody can do it."
He added that his family in India are "happy but in shock and surprise that I went for a show like this".
Bookmaker Coral has offered odds of 2-1 that Rahul will take on another show, and enter the jungle in I'm A Celebrity… Get Me Out Of Here!
He has said he has a rigorous approach to baking, and that his technique is all about measurement and proportion.
Speaking to Talkradio, he said: "I took Bake Off as an exam. That was an exam to me. I just wanted to concentrate and just finish it. I just wanted to try and do my best."
Rahul, who moved to the UK from India eight years ago, had struggled with confidence throughout the hit series.
But the researcher, who received several Paul Hollywood handshakes, beat Ruby Bhogal and Kim-Joy to triumph in the final.
Rahul has described Ruby as "like an elder sister", and said that "everyone looked after me".
Kim-Joy wrote on Twitter: "I didn't win – but I'm the happiest I've ever been.
"I've learnt so much about baking and have become so much more confident. And I've made 11 amazing new friends!"
Rahul had to restart his final showstopper after the 32C heat in the tent caused a storage jar on his workbench to shatter, sending glass everywhere.
He began recreating his dessert from scratch after throwing away anything that might have shards in.
Judges Prue Leith and Hollywood ultimately gave him extra time at the end of challenge to make up for the 15 minutes he lost.
After discovering he had won, he said: "I just feel I need to talk with my mum.
"What's next for me? I am going to start learning how not to say sorry so much… sorry about that."
He later admitted he thought the glass breaking signalled the end of the road for him in the competition.
"It broke into a thousand pieces and went in everything so it all had to be chucked, it almost broke me and I really thought that was it for me," he said.
"Fortunately I was able to prove that I could finish it."
Earlier in the episode Rahul impressed the judges with his doughnuts in the signature challenge, despite never having eaten one before the competition.
After crowning Rahul the overall winner, Leith said: "I think the amazing thing about Rahul and why I am so proud of him is that he came in unconfident, but he just kept going, and he never reined in his ambition, he always tried to do a bit more than everybody else, and it paid off."
Hollywood added: "He is one of those characters that you will miss when you are not with him.
"You know his intensity sometimes is amazing, and he is so good at what he does, but I don't think he realises still how good he actually is and I think that's what's magic about Rahul."