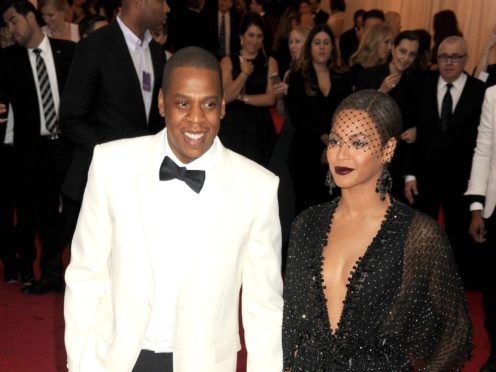 Beyonce and Jay Z have paid tribute to leading figures from the world of athletics with their choice of Halloween costumes.
The singer, 37, dressed up as the late sprinter Florence Griffith Joyner, while her rapper husband appeared to pay homage to the 1968 Olympic Black Power salute moment.
Athletes John Carlos and Tommie Smith wore black gloves and raised their fists as they stood on the podium during the medal ceremony.
The pair took to Instagram to flaunt their athletically-themed costumes, posting a picture of themselves on Halloween.
Jay Z, 48, is pictured performing a Black Power salute with medal around his neck and Beyonce appears in Joyner's flamboyant, one-legged Olympic track attire.
Sprinter Joyner who won three gold medals at the 1988 Olympics in Seoul.
Jay Z appears in a photo wearing the same number as gold-medallist Smith, who won the 200-metre sprint 20 years earlier.