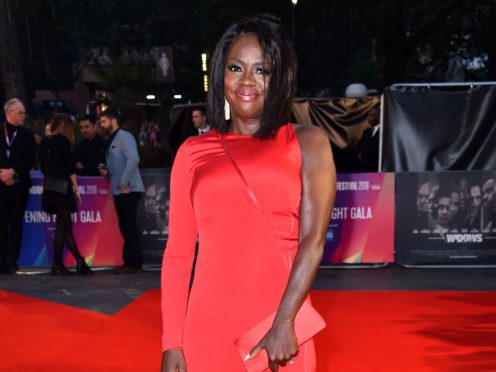 Viola Davis has said people might not have been ready to see her latest film 10 or 15 years ago.
The Oscar-winning actress stars in Widows, playing a woman who carries out a heist with a group of other women after her husband is killed during a botched robbery, leaving her in debt to a local gangster.
The film, directed by Steve McQueen and based on a Lynda La Plante mini-series from the 1980s, explores issues of gender, race, politics and crime.
Davis told the Press Association: "It came at the right time, in the right zeitgeist. When people are ready to receive it, as opposed to, I don't know, 10 or 15 years ago, when they would've been like 'what?'.
"I always say that art, movies, reflect the times anyway. And certainly that's the case with this movie."
The issue of race that runs through the film was not a feature of the 1980s series, and Davis said it is an important aspect of the modern telling.
She said: "I think that race is such a huge part of our culture, the same way that sexism is. And I love the way that the film explores that in a way that's seamless.
"The N-word just comes out of the politician's mouth as if they're nothing. People dehumanised without batting an eye, and yet in the midst of all that you have a love story, which is me and Henry Rawlins (her on-screen husband played by Liam Neeson). And that seems to be right.
"That looks like life to me, that's sort of like it is. In one hand we're saying that people are better than others, we're treating people as less than.
"At the same time we find each other and we love each other. And I think at some point in life, maybe not in my time, they will understand that we're all the same. But that's not the case now."
Davis added that the issue of women tidying up the chaos left by men "reflects truth".
She said: "I think that that is kind of the unspoken language – that we do clean up a lot of the mess.
"You have a lot of mums leading the families after the man has left it and ruins a sort of – I think that's what Sam Shepard's Curse Of The Starving Class is about.
"And I love that these women take ownership of their lives. I mean they do it in a way that's very messy, that maybe is not very likeable, but the objective is to now own themselves, and to heal. I love that."
Davis added that she hates the way female characters are often thought to need to be "likeable".
She said: "I shouldn't say I hate 'likeable', I feel like I'm likeable. But it's sort of like when someone comes up to you on the street, and says 'why don't you smile?' It drives me crazy.
"I feel that authenticity, and being honest with oneself, is far more important than being likeable. I feel at some point the claws have got to come out, per se, in order for you to step into yourself and create boundaries that people can't pass and abuse.
"And at some point you have to teach people how to treat you. And sometimes that's not about being nice, and about being likeable.
"And I think that at some point in your life you have to embrace your mess, and embrace that it is who and what you are, and forgive yourself."
Widows is released in UK cinemas on November 6.