The Duke of Sussex has publicly praised the Prince of Wales for stepping in and walking his bride down the aisle after her father could not carry out the role.
Harry revealed Charles said yes without hesitation when asked to perform the duty during their televised wedding ceremony in St George's Chapel at Windsor Castle.
Meghan's father Thomas Markle was supposed to take on the symbolic role of walking his daughter down the aisle but pulled out days before the May wedding for medical reasons.
Interviewed for a BBC documentary about Charles' 70th birthday year, Harry said: "I asked him to and I think he knew it was coming, and he immediately said 'yes, of course, I'll do whatever Meghan needs and I'm here to support you'.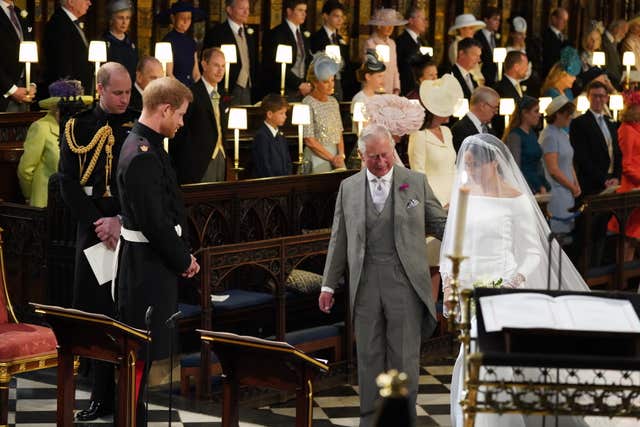 "For him that's a fantastic opportunity to step up and be that support, and you know he's our father so of course he's gonna be there for us."
During the wedding ceremony Harry could clearly be seen mouthing a thank you to his father and said about the moment: "I've been brought up well, you've gotta say thank you.
"Just because he's my father that doesn't mean I can just sort of go, 'OK, that's all, I'll take it from here'. Err, no! Though that is what I wanted to say but I was very grateful for him to be able to do that."
The Duchess of Cornwall said in the documentary she was moved by the words spoken between son and father: "I think that was very touching, sitting where I was, you couldn't hear what he said.
"But afterwards watching it on the television, I think… it was a lovely gesture."
Prince, Son and Heir: Charles at 70 will be screened on Thursday at 9pm on BBC One.