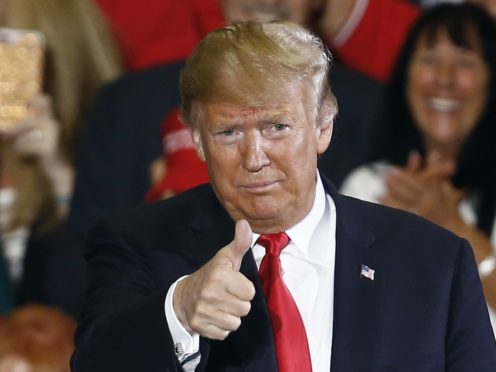 US talkshow host Jimmy Kimmel slammed Donald Trump for his response to the California wildfires as the death toll continued to rise.
At least 44 people have been killed as fires rage in both the north and south of the state, while hundreds more remain missing.
One town in Northern California, Paradise, has been practically wiped off the map.
The president's initial response to the catastrophe was to blame the "gross mismanagement" of California's forests, before threatening to withhold federal funds if it were not addressed.
Mr Trump has since struck a more sympathetic tone and on Monday tweeted to say he had approved an expedited request for a Major Disaster Declaration and told victims: "I am with you all the way."
The declaration makes victims eligible for counselling, housing and unemployment help, and legal aid.
During Monday's episode of Jimmy Kimmel Live, the host took aim at Mr Trump, referencing his first response to the tragedy.
He said: "We probably shouldn't expect much help from the White House. As the fires raged, the president weighed in with this touching message of support."
Kimmel then accused the president of doing "nothing" to combat climate change.
He said: "The federal government manages most of the forest land in California, not the state. He is the one who cut the funding. California actually pays more money to the federal government than it gets back. And, of course, he does nothing about climate change, which is why these fires happen."
Kimmel, nodding to California voting for Democrat Hillary Clinton in the 2016 presidential election, added: "But why get tangled up in facts when you can take shots at people who voted for Hillary instead of you?"
The talkshow host then quipped: "Donald Trump was the only guy who went to see Backdraft and rooted for the backdraft."
Kimmel concluded: "I get that California isn't the president's favourite state. But he could at least pretend to care about us. Like he does with Donald Jr."
Lady Gaga also savaged the president, tweeting on Monday to criticise his handling of the disaster.
She wrote: "@realDonaldTrump I knew this before, but you continue to make it clear you care for no one other than yourself.
"Mr. President show some compassion for the people of California and set an example of kindness for this country. #BeKind #Kindness #CaliforniaFire."
Celebrities including Gaga, Kim Kardashian West and Gerard Butler were among those forced to flee their homes to escape the fires.
Butler posted a picture of his charred property, which he said was "half gone", while Miley Cyrus revealed she also lost her home.
Singer Neil Young issued a statement on his website to say his house had been destroyed.