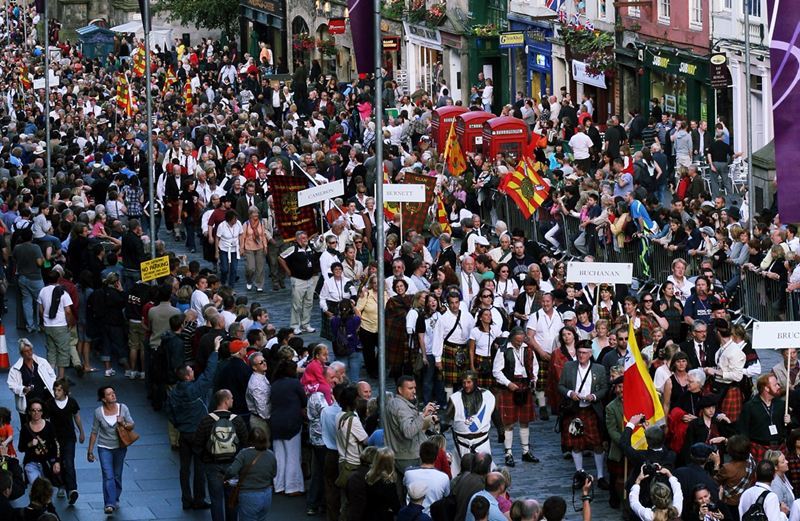 Scotland will hold a second year of Homecoming after last year's successful event centred on the 250th anniversary of the birth of Robert Burns.
First Minister Alex Salmond revealed on Tuesday that the next year of cultural events will be in 2014 to coincide with the Commonwealth Games in Glasgow and the Ryder Cup at Gleneagles, as well as marking the 700th anniversary of the battle of Bannockburn.
New figures revealed that the 2009 Homecoming events, which cost £5.5 million to stage, brought in nearly £54 million of revenue.
An overall 2.7% increase in tourist numbers was recorded, against a worldwide 4% drop in tourism numbers.
Unveiling plans for the 2014 Homecoming at a press briefing at the First Minister's official Edinburgh residence, Bute House, Mr Salmond said, "It's an opportunity, as an anniversary year, to focus on Homecoming in 2014 and give us a further opportunity for Scotland to lead the world with high-class attractions. It's a fantastic year to celebrate our country in all of its aspects.
"We are delighted with the success of our initial year of Homecoming we think there are tremendous opportunities for the future and we intend to build and capitalise on the extraordinary goodwill that's been generated as a result of the Homecoming experience."
He added, "The decision to highlight Bannockburn, the scene of a historic victory in the wars of independence, will attract English visitors.
"Scotland's cultural history is of huge attraction to tourists south of the border and tourists everywhere."
An evaluation of Homecoming 2009 by consultants EKOS found that it attracted 95,000 extra visitors to Scotland.
Surveys showed that almost half of the visitors who were aware of Homecoming had family origins in Scotland.
VisitScotland chairman Mike Cantlay said, "Homecoming came at a difficult time for Scottish tourism and helped to bring growth to the industry when we all feared a downturn.
"It showed the strength of everyone in tourism working together and the power of partnerships, from the smallest school and community group to every local authority and major festivals."
On Tuesday Scottish Labour branded Homecoming a "damp squib", highlighting that the figures showed that fewer than one in 10 people who attended Homecoming-branded events last year came from abroad.
Tourism spokesman Lewis Mcdonald said, "The figures speak for themselves the event was a damp squib with visitors from abroad who were the main target audience.
"I hate to rain on the SNP's Homecoming parade, but they failed to set the heather alight in Scotland's traditional overseas markets."