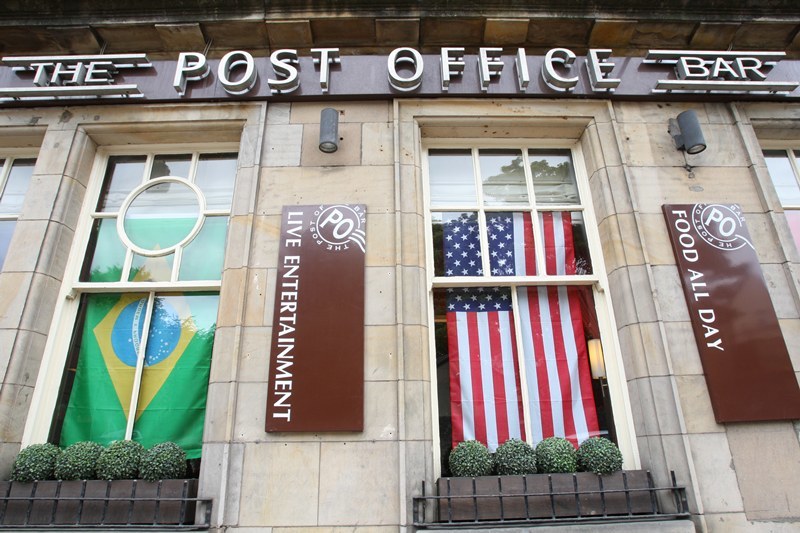 The landlord of a Dundee pub accused by police of racism and ordered to pull down English flags has insisted it was "just a little bit of fun."
Staff at the Post Office Bar in Broughty Ferry were ordered to remove the St George's Crosses poking fun at the Auld Enemy's football team after a complaint.
The flags inside the Ferry pub included the slogan ABE Anyone But England while another mocked goalie Rob Green, calling him Scotland's number one fan.
Police turned up at the pub on Thursday night after a complaint and staff took the flags down.
Publican Ian Tasker called the police the following day and they said no law had been broken. Putting letters on a flag isn't against the law as long as they're not offensive and the flags have now gone back up.
Mr Tasker refused to comment when approached on Saturday but earlier told fellow Scotland supporters on a Tartan Army messageboard about the row with police.
He said, "We had two England flags up in the pub. One had ABE on it and the other had Rob Green Scotland's No 1 Supporter on it.
"Tayside Police came in to the pub…and told my staff they had to take the flags down as they were racist. Staff took the flags down.
"What law do the two flags break? Any idea? Staff behind the bar were all wearing ABE T-shirts but police said they could wear them as they were just banter.
"Just spoken to Tayside Police and we aren't breaking any laws so the flags are being put back up now. It's just a little bit of fun."
Meanwhile High Street retailer HMV has withdrawn "Anyone But England" banners from its Scottish stores after complaints to police that they were inciting racial hatred.RivalryHMV took the decision after Fife police visited a store in Kirkcaldy.
The chain put up large window displays and stocked T-shirts featuring the slogan ABE in the run-up to the World Cup.
HMV said they were no longer actively promoting the ABE stock through banners and displays but would continue to sell a limited number of T-shirts.
Tam Ferry, the chairman of the East of Scotland Tartan Army, said, "Football is all about rivalry and having a bit of banter. Have the police got nothing better to do than take away a bit of fun from people?
"There's bigger problems in this country that they should be dealing with rather than this."
The term Anyone But England was coined by tennis player Andy Murray when he was asked at a press conference who he would be supporting in the 2006 World Cup. He later apologised, claiming he had been joking.
An HMV spokesman said, "In our view the shirts are not against England or the English, but are simply about some Scottish fans expressing a view that they want any team other than England to win this year's World Cup.
"It's not a sentiment we agree with, but surely a football fan has a right to express such a view if they choose to. This is about the World Cup and should not be turned into a race issue."
A spokeswoman for Fife Constabulary said, "We received a complaint on Monday, June 14, regarding the Anyone But England banners. An officer attended the HMV store in Kirkcaldy and spoke to the manager there to make him aware of the complaint and to give advice."
A Tayside Police spokesman said, "If we receive any complaint, then we have a duty to investigate.
"We can confirm we did receive a complaint about the flags on display in the Post Office Bar and inquiries were made regarding that. Officers attended and spoke to staff."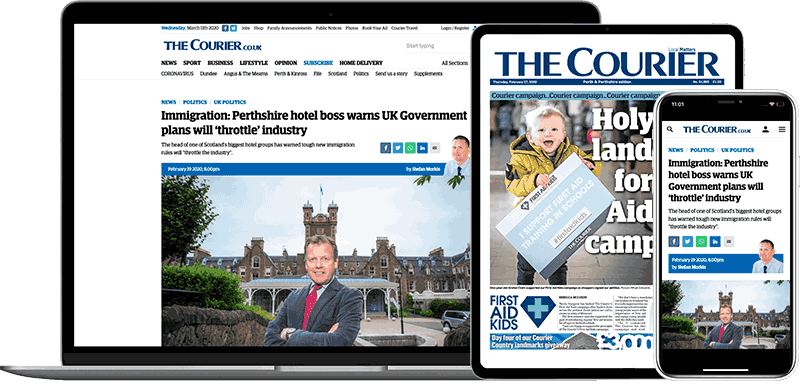 Help support quality local journalism … become a digital subscriber to The Courier
For as little as £5.99 a month you can access all of our content, including Premium articles.
Subscribe