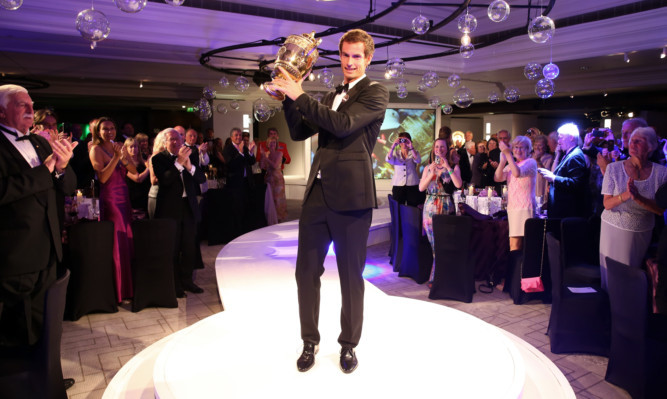 Andy Murray is enjoying a well-earned break from the courts today after he reached the "pinnacle of tennis" and became the first British man to lift the Wimbledon trophy in 77 years.
The 26-year-old from Dunblane raised a standing ovation last night on Centre Court where crowds bellowed their support as he sealed a thrilling victory over world number one Novak Djokovic.
The Scot broke down in tears of joy as he claimed the title that has eluded him for so long as a wave of celebration reverberated across the country.
In the players' box, his mother Judy Murray wept while his girlfriend Kim Sears appeared to fight back tears as the British number one kissed his well-earned trophy.
The win made Murray the first British man to take the Wimbledon title since Fred Perry in 1936, with pundits tipping him for a knighthood and predicting he will be a shoo-in for this year's BBC Sports Personality of the Year award.
It followed a thrilling match which saw supporters back the player with such enthusiasm that noise levels reached volumes never previously witnessed at the All England Club.
Murray spoke of how the backing of fans was integral to his campaign ahead of his win and the crowd appeared wholly aware of its responsibility.
As he stepped on to the world-famous lawn, those gathered on Centre Court answered his call to arms with a standing ovation and a deafening roar.
Supporters kept up their cacophony of cheers until he claimed the crown more than three hours later.See full coverage and reaction in Monday's special souvenir edition of The CourierMurray threw his hands in the air and a broad smile spread across his face before he sank to his knees in delight.
In keeping with Wimbledon tradition, he sprinted towards the players' box where he embraced members of the loyal "Team Murray" including Miss Sears, 25, who, just moments earlier, fought back her own tears as he triumphed in straight sets 6-4 7-5 6-4.
Murray later said the success would "take a little while to sink in" and admitted: "I don't really know what to say just now".
"Winning Wimbledon I think is the pinnacle of tennis," he added.
"The last game almost increased that feeling… I worked so hard in that last game. It's the hardest few points I've had to play in my life… I still can't believe it.
"Can't get my head around that. I can't believe it."
The British number one, who lost out last year to Roger Federer, said the weight of public expectation made his life "very difficult". But he thanked fans for their support on court and for creating a better atmosphere than ever before.
"It was different to last year's final, for sure, and then (at) the end of the match, that was incredibly loud, very noisy," he said. "I've been saying it all week, but it does make a difference.
"It really helps when the crowd's like that, the atmosphere is like that. Especially in a match as tough as that one, where it's extremely hot, brutal, long rallies, tough games, they help you get through it."
On court he raised a laugh as he paid tribute to those who have spurred him on.
"I understand how much everyone else wanted to see a British winner at Wimbledon so I hope you guys enjoyed it, I did my best," he said.
But the player confessed he almost neglected his 53-year-old mother during his dash to the players' box. Viewers watched him turn back towards the court before retracing his steps to embrace her.
"I did forget her, I just heard squealing behind me when I was trying to get down and I turned back," he admitted.
Mrs Murray later conceded she was an "emotional wreck" following her son's win but added: "I feel very proud of him."
"That has just got to be the best feeling ever, to watch your son win Wimbledon," she said, adding: "This is the thing he has talked about winning since he was a little boy playing tennis and of course it was a dream that has suddenly become a reality for him."
The crunch tie came on the hottest day of the year to date and saw temperatures reach 40C (104F) in the sun on Centre Court, while the mercury hit 29C (84.2F) in the shade.
Both players frequently mopped their brows while those gathered on Centre Court fanned themselves to keep cool.
On Murray Mound, hordes of supporters sheltered from the sun under umbrellas, while those on Centre Court fanned themselves in a bid to stay cool.
In the Royal Box, a host of famous figures including Prime Minister David Cameron and Scottish First Minister Alex Salmond watched the historic moment.
Last night Murray, dressed in a black tuxedo and bow tie and accompanied by Ms Sears, attended the Winners Ball in London, where he posed with his Wimbledon trophy and celebrated his famous win with his mother and father William.
Murray will now enjoy some time out before he gears up for the US Open, where he will hope to repeat last year's victory and defend his first grand slam title.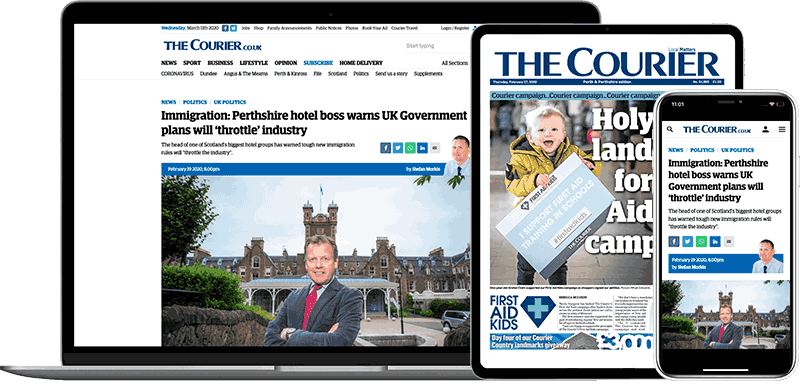 Help support quality local journalism … become a digital subscriber to The Courier
For as little as £5.99 a month you can access all of our content, including Premium articles.
Subscribe