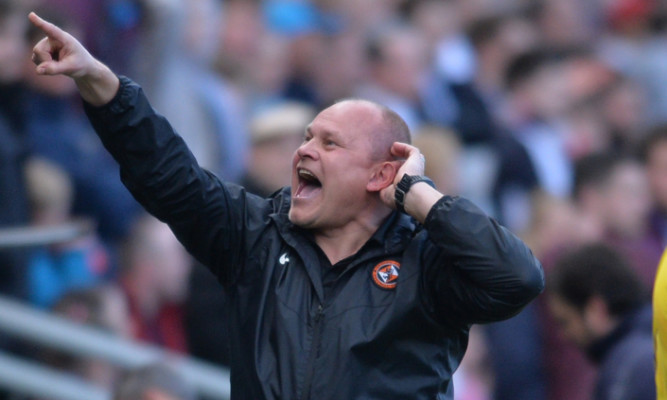 Now that the dust has settled well, almost on Sunday's dramatic derby at Tannadice, there is a chance to reflect on some of the key talking points from the game.
Feelings were certainly running high throughout in a match that saw four goals, a red card and thrills and spills aplenty.
There was almost as much happening on the sidelines as out on the pitch with Dundee boss Paul Hartley involved in a spat with United goalkeeping coach Stuart Garden at half-time.
The home side's boss Mixu Paatelainen was also at the centre of some incredible scenes as he was subjected to barracking from the Dundee fans housed behind his dug-out in the Jerry Kerr stand.
The big Finn was seen complaining to stewards and police about the stick he was receiving and when Billy Mckay scored his late equaliser he gleefully turned to the supporters who had been giving him pelters, smiling and cupping his ears.Give and takeThose gestures could land him in hot water with the SFA but having received so much abuse during the game, who could blame the manager for making his gesture?
The fans who give it out should be able to take it as well, even if the response was of an innocuous nature.
However, unfortunately, managers are held to a higher standard than the supporters and the authorities will no doubt be having a close look at Paatelainen's reaction.
It was a shame that the touchline antics came close to overshadowing what had been an incredibly exciting game which once again confirmed the Dundee derby is one of the highlights on the Scottish football calendar.
Of course, with United rooted to the foot of the Premiership table and with the campaign racing to a conclusion, there is no guarantee that there will be any derbies at all next season which would be a shame for everyone involved including the TV companies.
If the doomsday scenario from a United perspective does come to pass, the broadcasters will be boosted by the return of a certain fixture in Glasgow but the Tangerines have not run up the white flag just yet and the point gained against their near neighbours on Sunday could yet prove to be a priceless one.
Dundee fans may like to think that United failing to take all three points against the 10-man Dark Blues may have dealt a fatal blow to their hopes of staying up but there is still a lot of football to be played.
With the Tangerines now just seven points behind second bottom Kilmarnock with a game in hand, the great escape is very much a possibility.Pitch battleHowever, their efforts would be helped if they had a surface they could actually play football on.
Much of the derby action was spent with the ball in the air but, frankly, who can blame the players for not putting their faith in that bobbly pitch?
Tannadice, like many surfaces across Scotland, is not in the best of nick at the moment after taking a battering from the elements this winter.
Plastic may be fantastic for the likes of Hamilton and Kilmarnock but speaking to players and managers at other clubs, it is far from the preferred option.
So instead of considering installing more artificial surfaces, would it not be easier to look at a move to summer football?Six things we learnedWhat is certain is that we learned a few things from Sunday's game:
1: Dundee's Paul McGinn produced an outstanding performance in manager Paul Hartley's back three defence.
2: He may have been at fault for United's equaliser but substitute keeper David Mitchell showed he is a capable stand-in for Scott Bain.
3: Kane Hemmings' derby double will once again put him on the radar of covetous bigger clubs with the striker now sitting on 22 goals for the season.
4: United simply have to find a way to stop conceding "soft" goals otherwise their survival hopes will be fatally undermined.
5: The Tangerines need to try to replicate the spirit and fight they showed after Bain had been red carded for every minute of every game remaining for them this season.
6: Don't mess with Mixu!