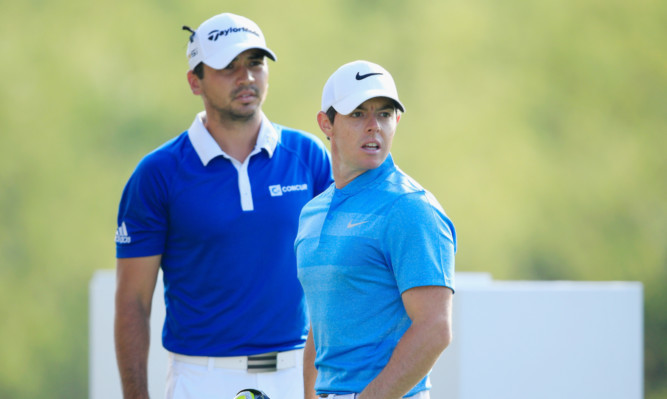 The new Dell WGC World Matchplay champion and World No 1 Jason Day is in very many ways an admirable figure.
He has an outstanding all-round golf game; a huge hitter off the tee, with a solid iron game and superb on and around the greens. He works exceptionally hard at maintaining that level of brilliance.
After a few disapppointments, he seems to have conquered the trickier mental game was well. Here at T2G we put that down to his inexplicable left-in-the-jaws birdie putt on the 18th during last year's Open when holing it would have got him in the play-off. He's been noticeably bolder ever since.
He is thoughtful and candid in interviews. Coming from a modest and some would say difficult background, he appears grounded, and is clearly a loving family man, although I'm starting to get just a wee bit bored seeing his son Dash at every trophy presentation.
At the weekend at the Matchplay in Austin Day, whose battles with vertigo last year were already testament to his fortitude, conquered what appeared to be a potentially serious back problem on the first day to win seven games in five days in the new and gruelling championship format.
On Sunday he outlasted Rory McIrloy in an exceptional semi-final – Rory's several misses inside eight feet costing him dearly – and then cruised the final against Louis Oosthuizen.
All this is great, but you'll have guessed by now that Grumpy is building up to a negative.
Day's pace of play has become downright ridiculous. His epic match with McIlroy – never a slow player – took a ludicrous four hours to complete in almost perfect conditions.
The amount of time Day took to hit virtually all his shots comfortably exceeded the new European Tour maximum of 40 seconds, indeed he took twice as long most times.
Was there a warning? Not even a peep, as the match was being played under PGA Tour regulations, and their slow play rules appear to be non-existent or uniformly ignored.
Sky, who were covering the contests, seemed loath to point it out until later in their broadcast, clearly as a response to the growing exasperation of their viewers, all too visible on Twitter.
Even then, they almost excused it as being more evident because just two matches on the course meant they had less opportunity than normal to edit out the interminable delays. Thanks for your usual efforts in that guys, but it's really not solving the problem any.
The European Tour has twice caught Jordan Spieth in slow play situations but he's like a sprinter compared to Day. The Australian will go to Augusta as favourite to win but given the difficulties of the greens there we may struggle to get done in daylight.
Day may be exceptional, but watching him is boring, and it's going to turn people off the game. If he'd get his skates on there would be no caveats about him as a role model for golf.
IT'S THE WORLD MATCHPLAY, SO MAKE IT MATCHPLAY
A few other issues from Austin? I don't like the round robin format. Seven rounds in five days is too much, the tiebreak system is confusing, and for the first three days it's not actually matchplay golf.
It's one week in a year. Live with the fact that shocks can occur, we've had many strong winners when it's been straight knockout.
I give Rory a pass on the week, there were enough positive signs for me. A week in Florida fine tuning and he should be good to go for Augusta.
Clearly the field for the Masters is superbly bunched at the front, with so many good players in such good nick.
It might be one of those weeks where an outlier comes through, but I think we're set for a real humdinger.
Tiger? I'll only say that if he shows at Augusta he's not learned anything about why he's been injured so often, contrary to what he's been confessing recently.
If he's serious about getting right at last and no more invasive surgeries, he doesn't play…at least until his Quicken Loans event after the US Open.
THE BOYS DOESN'T NEED MOVING, JUST TWEAKING
There won't be a full draw of 256 at the Scottish Boys Championship at Murcar next week, which has some chattering nervously.
One idea put about is that the championship needs moved from the season-opening slot in April. It's a bad idea.
The championship clearly has to be in the school holidays, but it would be buried in July and August, golf's already crowded peak season.
We had full, even over-subscribed fields at Monifieth, West Kilbride and Dunbar the last three years.
I'd put this year down to staggered school holidays around the country, the event being outside the central belt and the expense of staying in Aberdeen.
I'm in favour of two rounds of strokeplay qualifying before we enter matchplay in both this and the Scottish Amateur. Maybe some more accessible venues, a new one in Fife perhaps.
But don't change the date. The Boys has a unique place in the calendar and would be diminished at any other time.