 Thank the Lord.
Finally someone has done something positive for Dundee Airport, and for this let us all applaud.
After what seems like aeons of ploughing the same old track, Flybe has taken it upon itself to try to revive Dundee Airport's fortunes.
The regional airline has applied for cash from the Regional Air Connectivity Fund (RACF) for the establishment of a new daily service from Riverside to Schiphol, the international hub serving Amsterdam.
Let me first address the naysayers.
Before you even say it, you are right that this bid will potentially mean yet more taxpayers' cash being thrown at Dundee's already heavily subsidised airport operation. And no, Flybe is not doing this out of the goodness of its heart.
Quite obviously it wants to make a commercial return but, from my point of view, at least it is trying.
I have long bemoaned in the columns of this newspaper the stagnation surrounding Dundee Airport.
If there ever was any get up and go at this important facility, it appeared to have got up and gone.
Operators Highlands & Islands Airports Ltd say they have been trying hard to bring new business to Dundee, but there has been precious little progress to report in recent years save for the securing last year (again by way of public subsidy) of the Dundee to London Stansted route, which remains the airport's only scheduled service.
Recently I called for a task force to be sent in to look at options for improving and increasing the airport's role as a major economic driver for the city and the region it serves.
Having a fully functioning airport and all that entails think baggage handlers, control tower administrators, safety officers, maintenance operatives, firefighters and others without a commensurate schedule of flights has been a difficult circle to square for me.
Down the years we've had lots of talk about new horizons, but little in the way of tangible progress.
So to Flybe I doff my cap.
You can debate the merits or demerits of publicly funded air travel until you are blue in the face, but an opportunity exists to improve the situation at Dundee Airport, and Flybe has had the gumption to do something about it.
A total of 18 other bids have been made to RACF for support for routes flying from other regional airports, and it is only right that Dundee is in that mix. Its corner being fought.
Given the airport's less-than-glorious recent history, the establishment of a new flight to Amsterdam would be a major coup.
We are talking about daily access to one of the world's busiest air hubs with onwards connections to the USA, Middle and Far East and to South America major markets from which our businesses can potentially benefit.
And then there is the convenience factor for tourists coming to see what a modern, vibrant Dundee has to offer.
The ability to fly direct from the Continent to the City of Discovery, rather than take a round-trip on various forms of transport via London and Edinburgh or Glasgow as is required, will surely prove attractive to some, especially when the V&A has opened its doors.
There will undoubtedly be those who read this column and come to the conclusion that I'm a dreamer.
They'll roll out the well-worn arguments of the fares being too high, the runway too short, the aircraft too small for it to be a long-term commercial success.
And in the end they may well be right.
But I for one am not ready for the gates to close at Riverside and the stoor to be left mounting on the check-in desks.
I want to see the airport making a positive contribution to the city it serves, and the Amsterdam route bid is the first positive sign I have seen from it for a very long time.
If the choice is to watch Dundee Airport suffer a lingering death or back an attempt to pump new life into it, I know the side of the fence on which I fall.
Nothing ventured, nothing gained.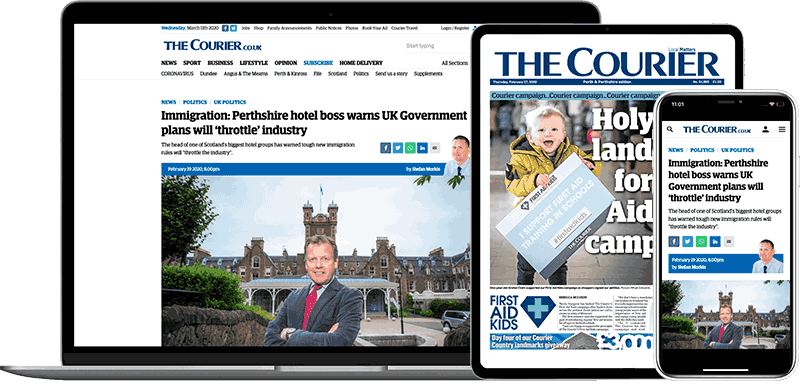 Help support quality local journalism … become a digital subscriber to The Courier
For as little as £5.99 a month you can access all of our content, including Premium articles.
Subscribe