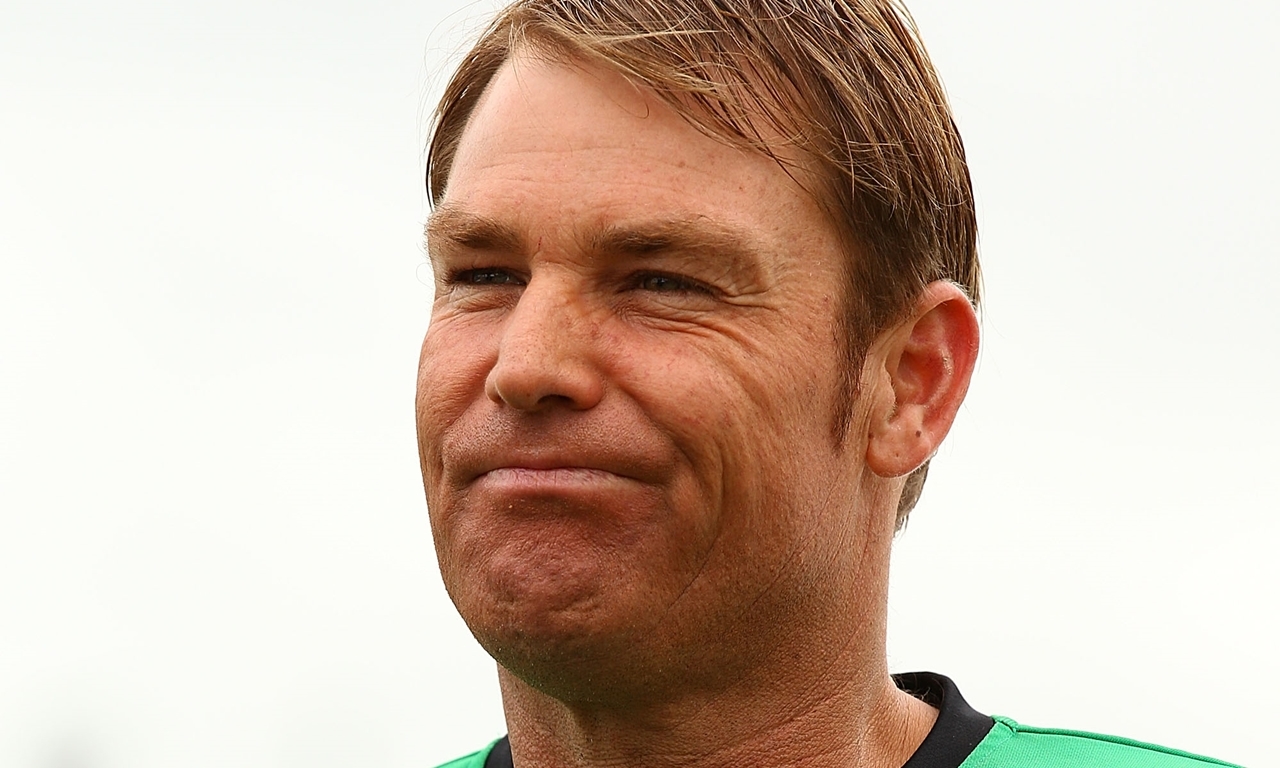 'Predictable' is not a word you would ever have used for Shane Warne the cricketer.
There's never been a harder to fathom bowler in the history of the game.
But predictable is exactly what Shane Warne has become as a cricket pundit.
Just as it became obligatory for his pal Glenn McGrath to tip an Ashes whitewash for Australia, now it's a given that Warne will regurgitate his theory that England are being held back by captain Alastair Cook's cautious instincts.
Up against Warne's pal, the best captain in the world Michael Clarke, what other series result could their possibly be?
The truth is, Cook could be the worst captain in first class cricket (Warne probably thinks he is) but you can be the finest motivator and strategist of all time and it still won't count for much if the other lot have the better players.
It's a clumsy attempt by Warne to get Cook doubting himself and divert from the gameplan which has served him and England so well and to start throwing in some risky declarations and bold fielding set-ups.
I'd be amazed if it works, but Cook wouldn't be the first sportsman, or team, to foolishly alter a tried and tested formula for success.
Here's a few examples where abandoning natural instincts has proved misguided:
* It's Australia v England again. Rugby union this time, and probably the best/worst case in point.
In the 1991 World Cup it was England's brutish pack and Rob Andrew's penalties that got them to the final. "Show us a bit of running rugby," the Aussies goaded, with David Campese unsurprisingly the loudest voice. And foolishly, that's exactly what they did. Or at least tried to. If they had stuck to what they were good at, England might not have had to wait another 12 years to raise the Webb Ellis trophy (courtesy of a forward-driven move, ironically).
* Boxing has had more than its share of fighters who have been goaded into ripping up the gameplan.So adept is Floyd Mayweather Jnr at the art, that he even managed to pull it off against a legend of the ring who should have known better.
In 2007 Mayweather tried to get under Golden Boy Oscar de la Hoya's skin by wearing the green and red colours of Mexico into the ring, complete with a sombrero.
"My strategy went out the window once that bell rang because I wanted to knock his head off so badly," admitted De La Hoya, who took great pride in his Mexican descent. He didn't, and he lost.
* If ever a football team suffered for betraying their principles and heritage it was the Netherlands in the 2010 World Cup final.
The Dutch had been runners-up in two other finals but those defeats didn't detract from the legend of Total Football. The Anti Football they brought to the final in Johannesburg however was a stain on that legacy and will remain so until a future Holland team can thrill us again at a major finals.
Spain were the strong favourites, but it wasn't as if Holland were no-hopers. They won all of their group games and in the quarter-finals saw off Brazil, then hit three past Uruguay in the semis, all with a style of play that was in keeping with their great teams of the past.
They shocked us all by trying to do in a World Cup final to Spain what Wimbledon had achieved against a great Liverpool side in the FA Cup kick them off the park. Thankfully it didn't work.
They sold their soul, and have got a lot of payments left to be made to buy it back.
* Tinkering with your swing, or even dismantling it and starting again is what golfers do. They can't resist. Even the greats never have the same swing at the start of their career as at the finish.
But when you've just won your first major and got to number one in the world rankings, that would tend to suggest your game is in pretty good order.
That's where Martin Kaymer was, yet he decided to work on hitting a right-to-left draw rather than his stock left-to-right fade in an attempt to improve his form at the US Masters. Not only did it not solve the Augusta problem for the German (tied 35th is his best finish), it also sparked a downward spiral that, it could be argued, is still at play.
Andy Murray is the shining example of a sportsman who has fought his instincts (defensive tennis) and succeeded because of it, but he's the exception rather than the rule. And his was a gamble grand slam near miss after grand slam near miss had shown him he had to make.
Cook is playing pontoon and holding a par of Kings. He'd be unwise to listen to the likes of Warne and take another card in the hope that it might just be an ace.