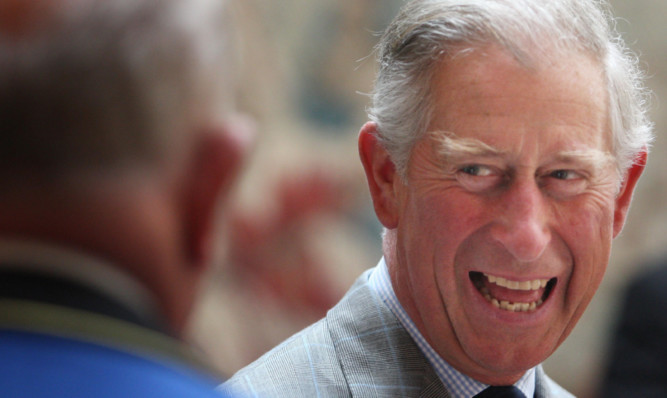 A few weeks back there was a considerable hoo hah about whether correspondence between Prince Charles and Government Ministers should see the light of day under freedom of information rules.
In England it took court action to prise the letters out of Whitehall and the Tory Government is thinking of changing the law to exempt future letters.
In Scotland the correspondence with the Duke of Rothesay (Charles' title in Scotland) were partially released.
On balance I think they all should be published.
Perhaps a time lag would be justified and certainly personal references should be omitted, but basically I don't see why not.
What is the point of freedom of information if isn't able to reveal matters which are of legitimate interest and not barred for legitimate commercial or legal reasons?
In addition to the principle, however, there is a practical reason for this release.
Nothing disclosed will show the Duke of Rothesay in anything other than a positive light. For a start they are not written in "green ink" as the daft red-top headlines would have us believe.
Some Scottish letters were released at the beginning of September this year.
I understand that others will be out shortly. They demonstrate that our next monarch has a genuine concern for causes close to his heart. Of course he expresses his viewpoint and makes suggestions. And why on earth shouldn't he? Everyone else does.
However, it would take a particularly weak willed Government minister to change his mind on the many and various subject matters under discussion just because Prince Charles says so.
Indeed across a wide range of issues, from the environment to modern architecture, Charles has been more right than wrong. In any case expressing a viewpoint is neither unreasonable or unconstitutional.
Prince Charles is experienced enough to know where the proper boundaries between monarchy and elected governments lie.
For example, back in 2009 I asked Prince Charles if he would be prepared to speak to Diageo about their withdrawal from Kilmarnock. The reason I did this was that he had already achieved amazing things by investing in nearby Dumfries House which has generated hundreds of jobs and life opportunities for youngsters in East Ayrshire, one of the unemployment blackspots of Scotland.
Diageo's treatment of Kilmarnock in one fell swoop reversed all of these gains and quite a bit more.
Meanwhile I had been doing everything I possibly could to save at least some of the jobs at the Johnny Walker's bottling plant.
Diageo were not for turning and therefore I wanted to sensitise them to the economic carnage they were leaving behind, after more than a century in Kilmarnock.
I was asking Prince Charles to help me do that not to reverse the decision because by that time it wasn't possible.
Instead to help me get this powerful company to understand the requirement to properly help the regeneration efforts in the town and therefore the people of Kilmarnock.
So as First Minister I was entitled to ask a question. But after some consideration Prince Charles responded that he could not intervene in the company decision making. Instead he offered the support of one of his charities, Scottish Business in the Community, to help with the recovery in Ayrshire.
I was certainly right to ask but he was probably right to decline and instead to concentrate on what he felt constitutionally able to do.
None of that should cause the slightest embarrassment to him.
On the contrary.
All of us should welcome the release of correspondence that demonstrates our next king has a clear sense of social responsibility.Waiting for GodotAll my life I have been "Waiting for Godot".
I finally got the chance last Friday to see Samuel Beckett'schallenging play in a special production to celebrate the 50th birthday of the Lyceum Theatre in Edinburgh.
Starring top Scots Bill Paterson and Brian Cox, the talented cast also included that fine character actor John Bett think Shallow Grave and Gregory's Girl.
Cox and Paterson make a great double act in the key leading roles and their relationship extracted every ounce of humour from Beckett's timeless masterpiece.
Amazingly this is one of the few times that two of our finest ever actors have worked together and even for that reason alone, the production is a must see for all fans of live theatre.
The play was originally written in French but in its first English language productions back in the 1950s, the two tramps, Estragon and Vladimir, were often played with Irish accents.
Not I think because Beckett was himself Irish, but more to underline some of the more political interpretations of the work.
Whatever the reason, their dialogue really suits the east coast Scots of Cox and the west coast accent of Paterson.
At times their interaction on stage was like a really deep version of Francie and Josie.
So much so that I began to wonder if a Scots language version might give it even more punch.
Since the run comes to an end this week, I hope the National Theatre of Scotland might consider picking up Mark Thomson's stylish production and sending it on tour, both around the country and internationally.
The play will probably be best enjoyed in more intimate venues like the Lyceum and as I watched I was thinking how well it would play in the new Tivoli in Aberdeen or in Perth or Pitlochry.
Indeed the first ever production was in a 75-seat theatre situated in Paris.
Mind you, I have little doubt that if it does tour around the smaller venues of Scotland there will be large queues across the country "waiting for Godot".Not such a silly BillyOne of the few politicians who impinged on the public consciousness enough to have his own catchphrase, Dennis Healey was one of thebig figures of the post-war era.
The last senior politician to have served in the wartime forces, Healey was also the remaining survivor of the glittering and talented 1960s Labour Cabinet of Harold Wilson.
I sat in the Westminster Parliament with him for five years but our first encounter was on BBC Question Time.
It was my very first appearance with the irascible Sir Robin Day in the chair and Healey was in his element.
By then aged over 70, Healey was still tough and formidable but played it with wit and charm.
His catchphrase coined by impressionist Mike Yarwood was "what a silly billy".
Dennis Healey was very far from that.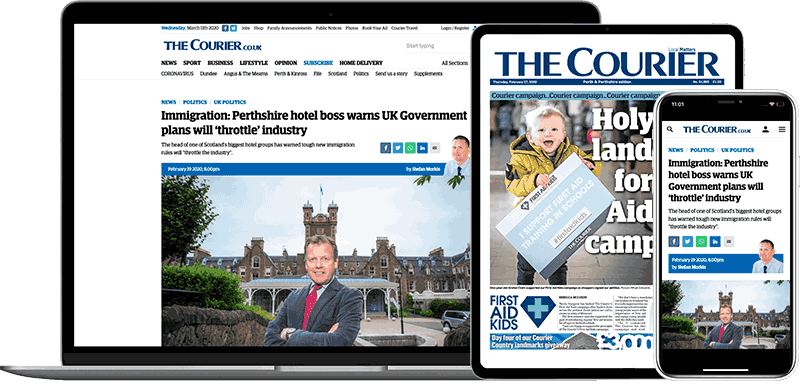 Help support quality local journalism … become a digital subscriber to The Courier
For as little as £5.99 a month you can access all of our content, including Premium articles.
Subscribe