 Hands up I admit it. The prospect of dragging myself away from a cosy house and back to my desk after the Christmas festivities was not one that I relished.
But now I am back at my post I can see that my dreaded transition back into work-life 2016 has been a lot easier than many others have had it.
While a couple of paracetamol sorted out my sore head come New Year's morning, the biblical rains that have fallen on Courier Country in the past week will leave an economic hangover for months to come.
Right now it is difficult to accurately predict how much the latest bout of flooding will cost the local economy.
But from the images emerging of waterlogged landscapes across swathes of Perthshire and Angus, I'd guess the final bill will run into millions rather than hundreds of thousands.
You may think that's an exaggeration; especially given the fact the floods have hit at a time when many businesses had their doors closed anyway.
But that may be a problem in itself as owners return from their festive breaks this week to find the flood waters have been their unwelcome first foot.
When a business premises floods thoughts immediately turn to spoiled stock and structural damage, but they are far from the only concerns.
Even a day or two of non-trading to allow for cleaning, drying and airing out of a shop, cafe or unit can have a significant impact on what a small business banks at the end of the week.
Months waiting for insurance compensation payouts don't help and I'm afraid many small companies will simply have to adopt the stiff upper lip and carry on regardless.
But I fear there are two major economic sectors tourism and agriculture that will be feeling particularly sore for a good long time to come.
Flood-hit hotels and accommodation providers not only suffer the immediate financial loss of having to cancel vacations, but they then have to work doubly hard to convince those customers, and others, to return in future.
The setback for farmers, whose fields have been left submerged, feedstocks scattered and animals displaced, is even more plain to see and potentially even longer lasting.
If nothing else, the floods have put my lazy, back-to-work grumblings into perspective and delivered to me a New Year's resolution I intend sticking to.
I will do everything I can this year to support local business and I suggest you do too.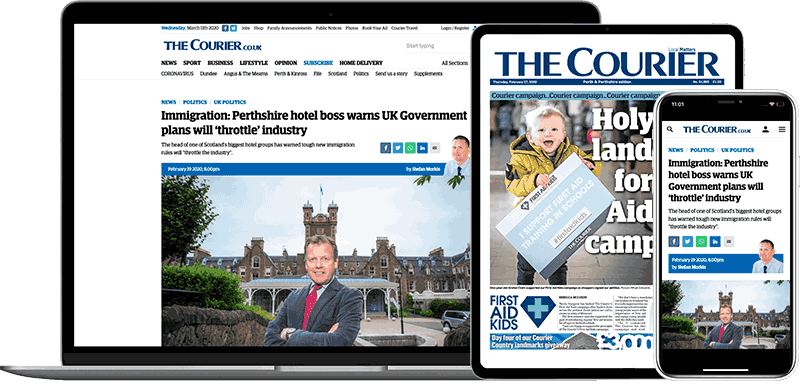 Help support quality local journalism … become a digital subscriber to The Courier
For as little as £5.99 a month you can access all of our content, including Premium articles.
Subscribe