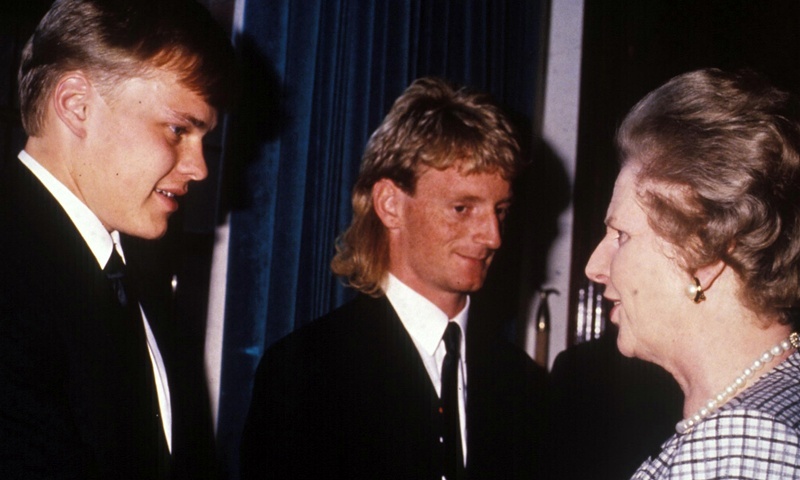 It isn't just in political, social, and cultural terms that Margaret Thatcher continues to divide opinion as strikingly in death as she did in life she does exactly the same in sporting terms as well.
To some she was to be commended for tackling football hooliganism with the same ruthless vigour that she confronted the trades unions, and the lack of a minute's silence at Monday night's Manchester derby and other matches to follow is a national disgrace.
For others she will be remembered as the Prime Minister who tried to force through an ID card scheme for supporters that was the definition of overkill.
With her Tory Westminster colleague and Luton Town chairman, David Evans, in her ear, she misguidedly thought that it would be workable and acceptable to spread his pet project nationwide.
That's the Thatcher I remember as far as sport in this country is concerned. She listened to the wrong people and was out of touch as a consequence.
The people of Liverpool said as much after Hillsborough (which ironically halted the ID card scheme) and it has recently been proved to the rest of us.
Instead of digging deeper and taking wider counsel she bought the line of senior police officers, the Football Association, press friends and other establishment bodies.
The truth was out there and people were telling it, but she chose not to listen.
Had Thatcher not been suffering from dementia when David Cameron apologised to the families of the dead in Parliament last year, she too would have been pressured to do the same.
Britain wouldn't have bid for an Olympics under Thatcher. She didn't see sport's worth, and her legacy because of that is a poor one.
As someone who was schooled during the eighties I clearly remember sports teams being disbanded, never to be reformed, as a result of teachers getting their overtime stopped for coaching after school.
It had the feel of an appalling government decision then, and it hasn't got any more sensible with the passing of the decades.
Tens of thousands of potential elite athletes will have been lost because of it, and that is Thatcher's sporting shame. Opportunity is no longer there for all.
Unlike modern-day party leaders, Thatcher didn't try to use sport to enhance her own popularity by glad-handing the David Beckham or Jessica Ennis of the day or draping herself in a scarf of convenience.
But she certainly didn't understand sport, or the people who followed and played it.