Guan learns it's big boys' rules at the Masters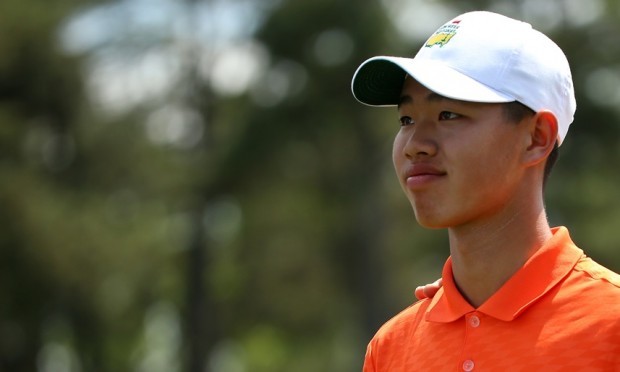 One of the curious aspects of the Masters is the litany of apparently petty rules. Call fans "patrons". Don't run. Don't shout. No mobiles. Don't you dare make an off-colour joke.
Paul Lawrie tells a good tale of one of his early Augusta visits when his late and much-missed coach Adam Hunter was out with him in a practice round, video camera in hand. In order to get a steady shot of Paul's swing, Adam balanced the camera on one of the spikes for the gallery ropes.A security man ran up and promptly warned Adam that leaning on the ropes was against Masters rules. And produced the weighty list showing that this was indeed the case.For a week each April, considerable thousands of grown adults are prepared to be directed like primary schoolchildren in this way. Such is the lure of the Masters that no-one questions it.Inside the ropes, even at Augusta thankfully, they play to a different set of rules, as 14-year-old Tianlang Guan discovered on Friday when he was penalised a stroke for slow play.On the face of it, it looks horribly unjust. Rounds were already stretching to well over five hours, and Guan could not be entirely to blame for that. The leader at halfway is Jason Day, a notoriously slow player. Guan looks like a scapegoat, an easy target for the Masters to fire a shot across the players' bows.Go beyond face value, and it becomes clearer. The man imposing the penalty was the European Tour's John Paramor, and John is the best and fairest referee in world golf. Full stop.He warned Guan four times alone on the back nine. A Masters official even spoke to the youngster's entourage following him around the course just to ensure there was no language difficulty involved. Believe me, when Big JP penalised Guan, he felt he had absolutely no choice. To those of you wondering why the kid wasn't given the benefit of the doubt…sorry, he definitely was.There's not been a slow play penalty on the PGA Tour for nearly 10 years why now? To me that's an indictment of the PGA Tour more than Paramor who remember penalised Ross Fisher in the final group on Sunday at the Welsh Open last year or indeed Guan.The culture of slow play has been allowed to ingrain itself in American professional golf to the extent that their commissioner Tim Finchem is clearly advised by his policy board to ignore the growing movement around the game to curb this menace driving people away from the game.The success of unacceptably slow players like Webb Simpson, Keegan Bradley, Ben Crane, Kevin Na and before I'm accused of transatlantic bias Graeme McDowell, Padraig Harrington and Day underlines this.I'd much rather they penalised one of these repeat offenders than some poor kid. But serial slowies on tour are cynically wise to the Tour's lax regulations they speed up when warned and slow down again when the coast is clear. Guan, sadly, doesn't have that kind of nous yet.Bottom line is that the kid is in the Masters, and the rules can't be changed because he's just 14. They have to be applied without fear or prejudice.If only all refs did this like John Paramor, we might not have a slow play problem at all.