IRB have to review TMO selection after Boks match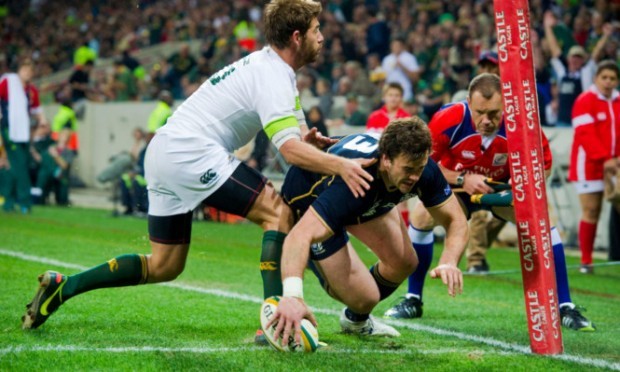 Suffering through Colin Montgomerie never shutting up in Sky's US Open coverage makes one ponder the Sky subscription, but maybe we should be grateful after suffering "Supersport" from South Africa in Scotland's game against the Springboks at the weekend.
Clearly the commentary team were gearing their speel at a home audience but there's no excuse for the one-eyed nonsense that was spouted as an excuse for insightful description of the game. Does even the most biased Springbok fan believe that their team is guiltless of all cynical ploys and underhand tactics?
Actually, in my experience of Springbok fans (and their media as well), they do.
Less amusing was the performance of Gerrie Coetzee, a South African who somehow ended up as TV match official for the game on Saturday.
I have no problem with his recommendation for a yellow card for Scotland lock Jim Hamilton that's always a going to be possibility with hands to the face of an opponent, as big Jim knows well but his intervention in Scotland's second try was outrageous.
Asked by referee Romain Poite to rule on a possible forward pass in the build-up, Coetzee instead tried to suggest that an obstruction had occurred much earlier in the move as a pretext, no doubt, to disallowing the score.
Thankfully Poite ignored this totally unsolicited assistance and gave the try. But with TMOs now being asked to give more decisions, the IRB have to ensure that neutrality of officials is not brought into any question whatsoever.Live tests or Lions shirts?Some fans and those close to Scotland are appalled that Brad Barritt and not Matt Scott was called up to the Lions at the weekend, especially after the young centre's outstanding display against the Boks.
But really, why? Unless the injury situation becomes a crisis, Barritt won't get a sniff of a test slot.
Ryan Grant headed out last week. Rightly or wrongly, they don't see him as the test loose head.
Would he have been better served staying with Scotland and anchoring the scrum for three live tests rather than playing two and a bit training runs against cannon fodder for the Lions?
Sure, Ryan will treasure his red shirt. But call-ups for the Lions this far into the tour are more about prestige than actual effect on the test matches, and players like Grant and Scott are surely better off playing for their country.Gatland's thinking becoming clearerIn Sydney, the identity of Warren Gatland's run-on team for the first Lions test became a lot clearer, and as indicated last week in these rantings it looks like he'll stick with his 2009 veterans.
Alan Wyn Jones, for my money the outstanding player on the pitch on Saturday, closed the door on Geoff Parling and Richie Gray's hopes of locking beside Paul O'Connell. Tom Croft similarly ended the question of blindside, and Sam Warburton those of captaincy and openside position.
Toby Youngs has edged Richard Hibbard, Jamie Heaslip is just ahead of Toby Faletau. Adam Jones, Mike Phillips and Jonny Sexton were all set in stone months ago.
Leigh Halfpenny is the full back and kicker, Brian O'Driscoll is outside centre. George North will be on one wing even if half-fit, Jamie Roberts might be toiling but even if they had to play in the in-form Jonathan Davies, nobody would be that upset.
At loose head, Mako Vunipola has done a grand job on this tour but if the Lions want the scrummage ascendancy they are supposed to be basing their gameplan around, Alex Corbisiero might be the better starter.
Which leaves right wing. Scots have been holding out that Sean Maitland might get the nod ahead of Alex Cuthbert's uncertain defence, but missing the one-on-one tackle against the Waratah's Peter Betham damaged that. Cuthbert has scored freely, and should get the nod.