 Don't fall asleep, we have a treat for you.
In Saturday's Courier we have news of an event guaranteed to keep you on the edge of your pew.
Forget Strictly Voice Factor Brother Dancing Idol. A new kid on the block is going to blow all those weekend entertainment shows out of the water.
There are a few things, I am sure you will agree, more riveting that enjoying a church sermon of a weekend.
Well now hold on to your socks lest they be blown off how do you fancy no fewer than TWELVE sermons back to back?
BOOM.
Indeed, it was surely exactly such a scenario The Jam had in mind when they penned their seminal classic, That's Entertainment.
That's right folks, Saturday's Courier has details of the marathon Tayside church service set to run all day long.
Christianity, for those that don't know, is a family-run organisation that has been under the same management for more than 2000 years.
One can only imagine you will be able to find out even more at the aforementioned mammoth charity service.
And while we are offering something that is simply too good to refuse, I very much suspect you will not want to miss a Christmas story which is far from miraculous.
We reveal details of the major online retailer slammed for sending a pair of socks to an eager customer in a ludicrously enormous cardboard box.
Just picture the scene:
You are waiting for a pair of socks, only to have a huge box turn up.
Imagine how disappointed you would be.
Admittedly, that disgust would turn to unconfined joy on opening said box and discovering the much sought-after thermals inside, but all the same…
The recipient in this particular case was so disgusted he decided to see if he could fit his entire sock drawer into said box. And, you guessed it, yes he could.
It really is madness gone mad.
Very, very wasteful.
Meanwhile, Saturday night sees the start of The Voice (other shows are available). If you can't make it to the aforementioned church extravaganza and are therefore seeking alternative entertainment you may wish to watch the Fife firefighter determined to win over the judges purely through the medium of his sensational songs.
You can see him in action here and find out more in Saturday's Courier.
Please don't miss "the best weekend read you are ever likely to find" (purely my words, admittedly), do pick up Saturday's Courier. Failing that why not try our digital edition?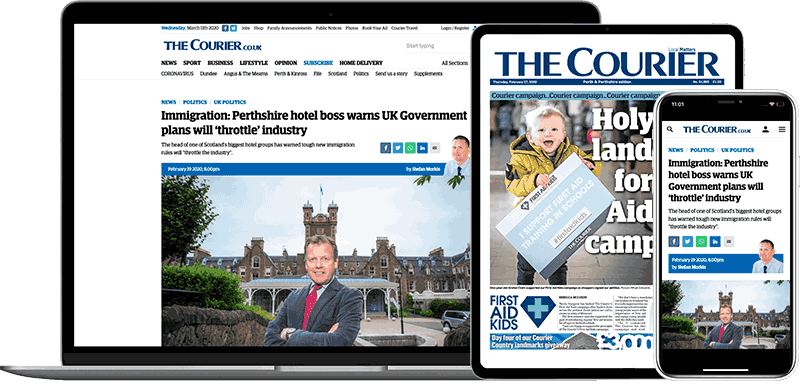 Help support quality local journalism … become a digital subscriber to The Courier
For as little as £5.99 a month you can access all of our content, including Premium articles.
Subscribe