 What a ruddy farce.
In Saturday's Courier we have more much more on Friday's chaotic scenes.
Tsk tsk. It really was rather shameful.
We speak to a psychologist about just what drives Black Friday, a senior religious figure on what he perceives as worrying changes in society, news of a backlash from many decent citizens and a (completely responsible) look ahead to Cyber Monday (at least you can't physically clobber somebody over the head with a telly over t'interweb).
We also look ahead to T'Pau's forthcoming gig in Montrose courtesy of an exclusive interview with 80s icon Carol Decker.
She reveals details of the incredible mix up which nearly left her heading for the foothills of the Alps instead of the undulating plains of Angus…
We thoroughly enjoy an opportunity to chat to remarkable ladies, so it was quite the treat to also meet up with inspirational 99 year-od Ann Mackintosh.
She is looking forward to her local church's Sunday service which is set to be streamed direct to her iPad.
It is a great initiative and the tech savvy pensioner can't wait to get online.
Great stuff.
Ken whit's braw?
A slice o' Dundee cake.
Members of the European Parliament will get to find out for themselves after a local political type tucked the tasty treat in his suitcase ahead of a trip to Brussels.
Teckle.
A sensational Saturday is guaranteed for Courier readers. Please do be sure to snap up your copy. Failing that, why not try our digital edition?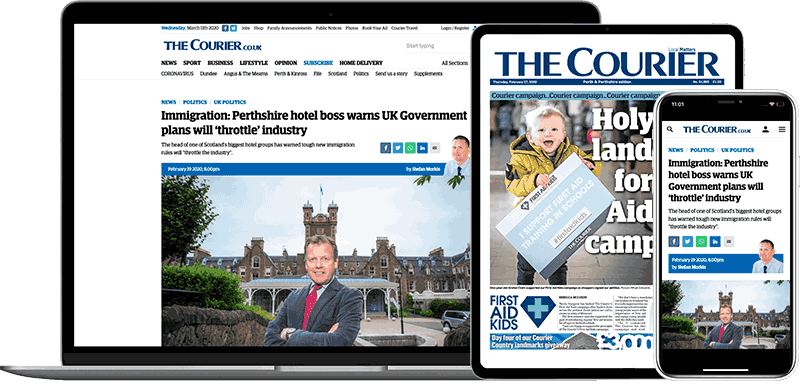 Help support quality local journalism … become a digital subscriber to The Courier
For as little as £5.99 a month you can access all of our content, including Premium articles.
Subscribe