 A really quite remarkable cavalcade of (alleged) bad luck in Thursday's award-winning* Courier.
I think we can all agree the following series of events would fall firmly into the "unfortunate" category:
1) The "draft" from a passing lorry causes you to lose control of your car
2) You smash into the central reservation of the carriageway
3) You get out of the car to compose yourself only to stub your toe and fall up and over the parapet of a bridge, falling 100ft to the ground below.
I think we can all also agree the following series of events would fall firmly into the "fortunate" category:
1) You miraculously survive a 100ft fall from a bridge
2) You have a bottle of whisky in your pocket
3) The bottle of whisky doesn't smash, therefore providing the perfect restorative required to fortify yourself ahead of the long climb back up to the carriageway of the aforementioned bridge.
In Thursday's Courier we reflect on the fellow who claimed all of the above befell him while driving in Perthshire.
It couldn't be true could it?
No, according to a sheriff.
Don't miss the full story.
In other news meet the piper who has been calling the tune in the US of A.
The powerfully-lunged local youngster has been blowing his way to stardom of late (as it were) and is now quite the sensation in celebrity circles.
We have all the details.
In other news we cry "lay Lassie, lay".
That's right, Lady the osprey may be AWOL, but young pretender Lassie has wasted no time in coupling with Lady's ex-partner, Laddie.
An egg has resulted, much to the excitement of twitchers.
So, to put it in mathematical terms, it's a case of Laddie-Lady(+Lassie)=egg.
You can read all about it in your ornithologically sound Courier.
Meanwhile, don't miss our story about the Fife golfer celebrating the joy of six.
It has been a remarkable year for the fellow who has scooped a remarkable number of aces (no prizes for guessing how many…).
For more on all of these terrific tales don't miss Thursday's Courier or why not try our digital edition?
*potentially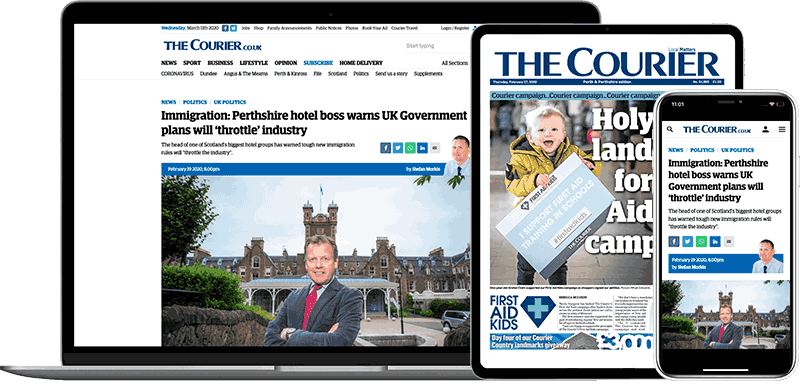 Help support quality local journalism … become a digital subscriber to The Courier
For as little as £5.99 a month you can access all of our content, including Premium articles.
Subscribe