 The shouting's over, the fighting's done and votes are cast.
There will be no more for the next five years. Apart from the Scottish election next year. And a possible EU referendum. And another Scottish independence one. Oh, and another general election if this one didn't work.
Until the next one then, here's Coming Up's A-Z of the election campaign.
A Austerity A oneword way of saying "it's not our fault"
B BBC Also "bias" just saying…
C Coalition Whose thirst for power will make them blink first in the postelection Game of Drones?
D Debates Many and often (unless you're David Cameron).
E Endorsement A lack of celebrity action this year, probably because taxavoiding celebs and expensesladen politicians are both toxic brands.
F Fairness the buzzword of choice (again).
G Greens Standing on a threeway marriage ticket was always going to be a winner, right?
H Hung Parliament The masochist's choice, bringing with it the enticing prospect of doing all this again pretty soon.
I Independence Many people forgot it was a general election, not the referendum revisited.
J Justice A great many parliamentarians will never again seat their behinds on those green leather banquettes thanks to switchedon voters.
K Kitchen Whether their coffee machines were housed in multiple rooms or they made do with just the one, the humble kitchen became a key election battleground.
L Liam As in Byrne, the Labour chief secretary to the Treasury whose 2010 "sorry there's no money" note was a weapon produced at regular intervals by the coalition.
M Moustache Moustache man, Danny McAfee from Dundee was an unlikely hit with viewers during one debate.
N No "There will be no deal with another party to form a government. No, no, no. You're offering what? Oh, go on then."
O Omnipresent Wherever you looked, there was Nicola Sturgeon. And she wasn't even standing as a candidate.
P Polls At least one a day and all the same. Even Prof Curtice must be scunnered by now.
Q Queen Must have been watching some of the exchanges through her fingers in anticipation of welcoming one of these to Buck Palace as PM.
R Red lines Every party has them. Coming days will show they're not necessarily unwaveringly straight though.
S Scotland Remember when we were the rest of the UK's best mate back in September?
T Twitter Apparently the medium of choice for the criminally insane.
U Underdog Plenty this year including the Cannabis is Safer than Alcohol party, the Beer, Baccy and Scratchings party and Hoi Poloi. And the Lib Dems.
V Viewers An election played out more than ever on TV has included the unnerving sight of Ed Miliband repeatedly "engaging" through the camera lens.
W Welcome Every candidate was welcome on every doorstep and enjoyed "brilliant feedback" (aye, right.)
X Xenophobia From UKIP to the SNP, they were all accusing each other of it.
Y Yoda Alex Salmond, what were you thinking?
Z Zzz What the weekend will be for.
See Friday's Courier, including a special late morning edition, for all the election news.
There's also some stuff about Dundee alumni Captain Kidd's sunken treasure.
Put your X in the box marked Friday's Courier for a brighter future.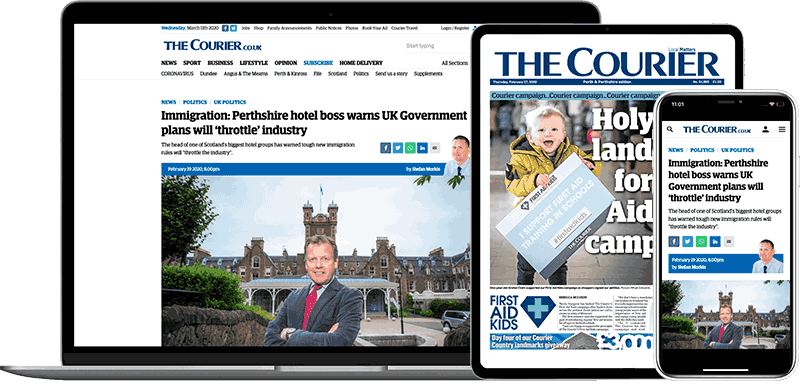 Help support quality local journalism … become a digital subscriber to The Courier
For as little as £5.99 a month you can access all of our content, including Premium articles.
Subscribe