Ian Roache recently graduated from Dundee University with a Masters Degree in International Security. His specialist area is the Middle East. Here is his analysis of President Obama's speech in the wake of the attacks in San Bernardino:
Barack Obama's address from the Oval Office was designed to reassure the American people that the fight against terrorism is both active and effective.
Speaking in the wake of the shootings in San Bernardino, California, that left 14 people dead, Obama stressed: "So far we have no evidence that the killers were directed by a terrorist organisation overseas or that they were part of a broader conspiracy here at home."
However, he did label it "an act of terrorism" by people who had gone down the "dark path of radicalization" by pledging allegiance to Islamic State
The president didn't lay out a comprehensive strategy for defeating IS – or ISIL as he called them but there was prominence given to a political solution for Syria that will help pursue the "common goal" of combating the terrorists.
Obama separated his reassurance to the United States into four distinct sections.
The first stressed that the American military will "hunt down terrorist plotters in any country where it is necessary" in direct reference to the air strikes on Syria and Iraq. This included a significant name check for the United Kingdom along with France and Germany in a list of "our closest allies" who have "ramped up" their efforts in the region.
The second was a pledge to "continue to provide training and equipment to tens of thousands of Iraqi and Syrian forces fighting ISIL on the ground."
Observers in the UK will note that Obama didn't use the 70,000 rebel fighter figure stated by Prime Minister David Cameron in the run-up to the vote on Syria.
The third section stressed the importance of a broad intelligence-led operation, with Obama insisting that the US is "working with friends and allies to stop ISIL's operations, to disrupt plots, cut off their financing, and prevent them from recruiting more fighters."
The fourth is probably the most interesting. In it he talked about a process and timeline being established to "pursue ceasefires and a political resolution to the Syrian war" that would allow the Syrian people and every country he specifically mentioned Russia to pursue the joint goal of defeating IS.
Of course, this is a more measured response to the terror threat than many politicians in the US in particular Republican Party presidential hopefuls – would like to see. Lindsey Graham has called on Obama to "change his strategy" while Donald Trump has asked: "Is that all there is?"
Obama is being consistent, though. In his State of the Union address in January, given just days after the Charlie Hebdo murders in Paris, he said that: "The question is not whether America leads in the world, but how. When we make rash decisions, reacting to the headlines instead of using our heads; when the first response to a challenge is to send in our military, then we risk getting drawn into unnecessary conflicts, and neglect the broader strategy we need for a safer, more prosperous world. That's what our enemies want us to do. I believe in a smarter kind of American leadership."
The world will now be watching and waiting to see if the "smarter" approach of Obama continues to trump those of his more hawkish critics.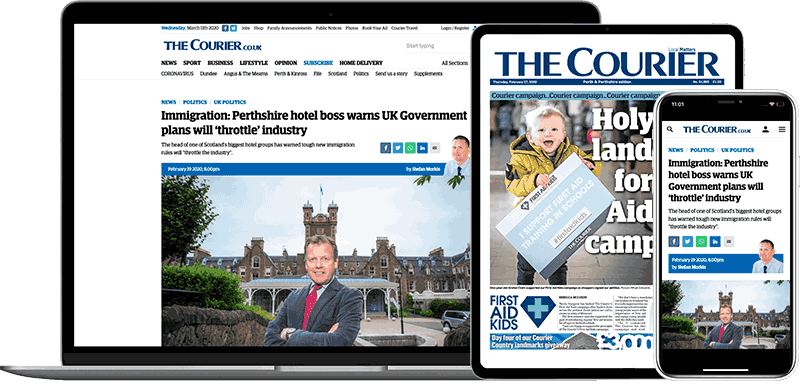 Help support quality local journalism … become a digital subscriber to The Courier
For as little as £5.99 a month you can access all of our content, including Premium articles.
Subscribe