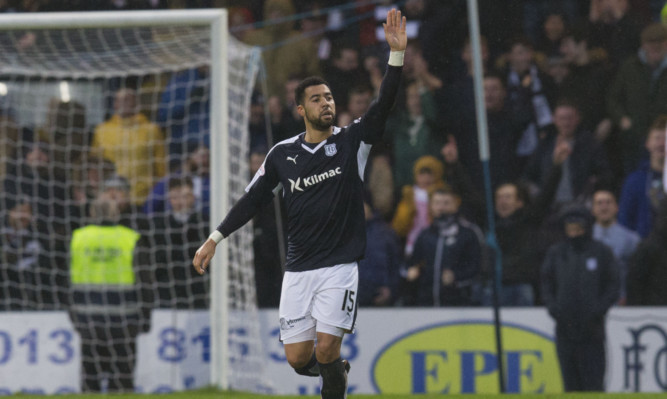 Beyond the cheeky chants and the somewhat provocative selection of the Dens Park DJ come full time on derby day a more subtle sound could be heard.
It only happens once or twice in a generation but once again the tectonic plates beneath this great footballing city are shifting.
Yes, I write as a Dundee fan but I truly believe the balance of power is on the move from one end of the street to the other.
It is almost impossible to see this season ending in anything other than relegation for beleaguered United now.
The derby was only one game but it was symptomatic of a wider problem for the Arabs.
They made a decent start and after taking the lead could easily have gone further ahead.
However, as soon as Dundee scored United's lack of confidence was brutally exposed.
I have seen it countless times before at Dens Park, more often than not exhibited by the home side.
Mixu may well splash the cash in January but confidence is one thing money can't buy.
Couple the lack of points with the lack of belief and it all starts to look somewhat inevitable.
Take out the last few years, and Rangers and Celtic have often competed at the same kind of level.
Life is very rarely like that outside Glasgow.
In both Edinburgh and Dundee, one team tends to rule the roost for years at a time.
It is a strange phenomenon which doesn't half make life hard for the supporters of the "lesser" team.
Dundee are certainly not as good as United have been in recent years far from it.
There are unlikely to be any European escapades for us Dundee fans to enjoy over the next few seasons.
However, United are every bit as bad as Dundee have been in recent times.
That's why Saturday's derby was about much more than three points and why the result is so hugely significant.
There are plenty of Dundee fans that believe, had the Dens Park side lost, we would have been dragged into a relegation dogfight ourselves.
Conversely, the confidence United would take from such a result would surely have been the catalyst for a better run.
There are some decent players in that United team, but without confidence that counts for so little.
The Tannadice team failed to capitalise on their positive start, only to then see Kilmarnock take a point from Hearts…the gap at the bottom is starting to look more like a yawning chasm.
Everybody loves the derby, and there is no doubt it is good for the city.
We (fans of both teams) love to gloat when the mob from the other side of the road are in bother but we all miss the derby when it's not there.
The class shown by the United players when McPake was injured – they showed genuine concern for his wellbeing – is symptomatic of this "friendly" derby and is something both sets of fans can be proud of.
But if United do, as must now be expected, go down, history will tell us Dundee are likely to be city top dogs for several years to come.