 Coming Up is a family man, working for a family-friendly website.
So frankly, Coming Up can't use its daily, pithy look at the news to say exactly how we feel about this.
The only language to describe it would be deemed offensive by many, insulting by most and unprintable by some including, vitally, The Man.
We'll let you make your own judgement then dear readers, while pointing out he's wearing possibly rubber lederhosen.
That's lederhosen.
Away from the Euro high-camp, Saturday's sparkling edition of The Courier features more than enough to keep you away from the darker reaches of the internet populated by the likes of this man.
We have the latest on the Higher maths exam row, although I'm not promising we'll reveal if that frog ever got out the well, Coming Up not being great with the numbers you see.
We were on site as lucky competition winners were serenaded by The View at Strathallan as T in the Park work begins.
MoFest got underway with a barnstorming set by 90s rockers, Ash. Our man was there.
And we reveal why the parking meters in Dundee city centre don't work. (Actually, we don't reveal why because no one knows and there's nothing can be done about it either. Still, the cooncil seems pretty relaxed about it).
In sport, we have all the build-up to crucial fixtures in the last weekend of the Premiership as Dundee United and St Johnstone duke it out for the right to cancel their holidays and start pre-season in a couple of weeks' time.
And Angus Whitson fans? Have we got an 850-word treat for you as the Man with two Dogs goes for a walk and watches a bird eat worms.
We'd save that particular page of Saturday's Courier for round about 8pm (sooner if he gets his kids to bed earlier) when this begins (oh Jaysus, the memories…)
Whatever your choice, enjoy your weekend and your Saturday Courier, which can, of course, be enjoyed without leaving your bed thanks to this.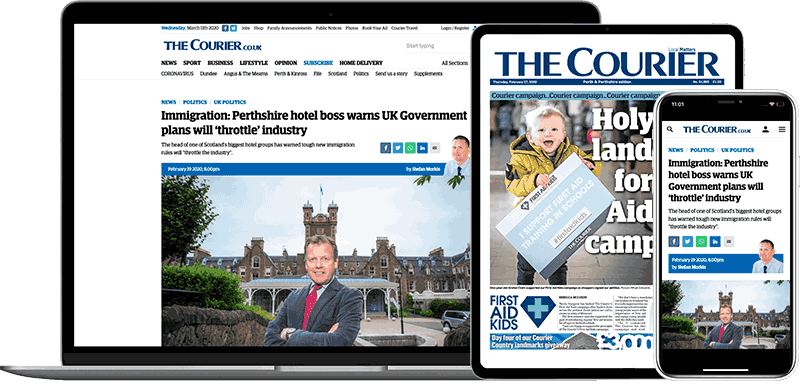 Help support quality local journalism … become a digital subscriber to The Courier
For as little as £5.99 a month you can access all of our content, including Premium articles.
Subscribe