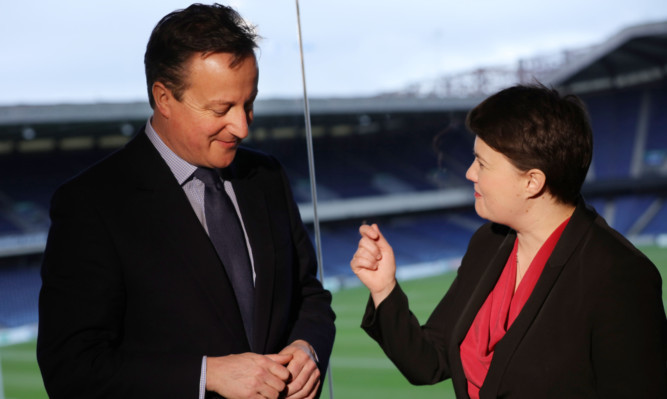 We can probably be certain that Iain Duncan Smith was not thinking about the forthcoming Scottish election when he made his dramatic departure from the government last week.
Europe and his fellow Brexiters, the leadership ambitions of the Chancellor, his own relationship with the Prime Minister, his affection for Boris Johnson and perhaps genuine concern over welfare cuts were all in the mix as he made his fateful decision to resign, ostensibly over a fast-track plan to slash £1.3 billion from Personal Independence Payments.
The potential consequences of his dastardly deed on Tory hopes north of the border in May are unlikely to have crossed his mind.
Still, this does not mean the crisis unfolding at the heart of the Conservative party will not have ramifications in Scotland.
And how Scottish Tory leader Ruth Davidson reacts will determine if the damage is felt this far from London and its cliques.
Good run
Until Duncan Smith's shock announcement, Davidson was having a good run. After years of perceived toxicity here, her party had achieved the unthinkable, with polls putting it ahead of Labour for second in the Holyrood race.
Her personal popularity, though nowhere near the levels of Nicola Sturgeon's, has also edged ahead of her Labour rival, Kezia Dugdale's.
There has been a spring in the Scottish party's step of late, mostly down to Davidson, a progressive politician who has shown herself to be a breed apart from the traditional Tory stereotype.
The last thing she needed was a row in the south over the most sensitive of all policies, welfare cuts to the disabled.
Immediately, whatever the rights or wrongs of the Duncan Smith resignation, the delicate rebranding exercise came unstuck, the nasty party was reborn and Davidson now knows she will have to redouble her efforts with those middle ground voters who had started drifting towards her banner.
With Labour swing voters no doubt uppermost in her thoughts, she initially seemed to be backing the IDS position against Chancellor George Osborne's Budget measures.
Welfare reform should not be "sullied by short-term cuts", she said, adding that the "Conservatives must be the party that speaks for all the UK and for all working people".
She may well believe that but she should be more careful about picking sides in this civil war, which is only going to get worse during the countdown to May and to the European referendum in June.
Davidson takes part in the Scottish leaders' debate tomorrow and she will not want to appear pro-Brexit in any shape or form by being seen to be in the former Work and Pensions Secretary's camp.
Big cheerleader
She should also remember that David Cameron has been one of her biggest cheerleaders and that her success to date is not unlinked to his record in office and to his Treasury's.
Osborne has generally made a better job of reducing the deficit than his European counterparts and certainly better than his Scottish opposite number, who has managed to create a £15 billion black hole.
It will be easier for Davidson to talk up her party's handling of the economy if she is as far removed as possible from the bloodletting in London, so she would be advised to tread cautiously where personalities are concerned.
But how will she combat the accusations that the Tories are wedded to austerity and are balancing the budget on the back of the disadvantaged?
There is no use in anyone trying to explain that some reform of disability allowances which are based on a points system that has careered out of control is necessary in order to distribute limited resources more fairly. The time for such arguments is not now.
Cameron has already come to that conclusion and so has Stephen Crabb, the former Welsh Secretary who replaced Duncan Smith and who said on Monday that there will be no more welfare savings in this parliament.
This is something Davidson can embrace wholeheartedly and not just because she likes what Crabb is saying.
He also happens to be one of her favourite MPs, a "political soulmate" from a similar background to her own and someone she has tipped as a future leader of the party.
Outsider
In an interview in January she said she didn't think any of the current front-runners who then included Osborne, Johnson and Home Secretary Theresa May would end up succeeding Cameron but that an "outsider" who could show "warmth as well as intelligence" would claim the Conservative crown.
She would, she added, "find it very hard to vote for anyone else" if Crabb were on the ballot paper. Two long months in politics later, her not-so-subtle dig at the Chancellor has taken on added meaning.
But she should try to be a little more diplomatic, at least until the dust has settled.