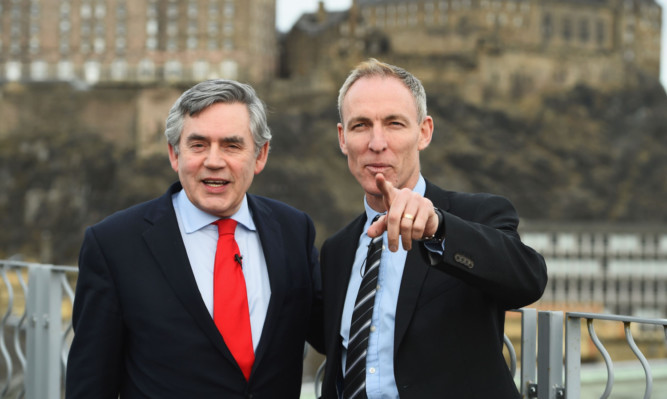 With Labour trailing the SNP in the polls, and apparently on course to lose most of its Scottish seats in the general election, it was a relief to learn that the party had a secret weapon, and a rather big gun at that.
Now he has been wheeled out. Gordon Brown was in Edinburgh on Monday promising further home rule over welfare and pensions and he is expected to be deployed in the coming months in marginal seats where traditional support is being lost to the Nationalists.
Although he is not seeking re-election himself, Brown is a passionate defender of the Union and was widely credited with helping the Better Together camp to victory in the final days of the referendum, in particular by engineering the "vow" on more devolution.
If his rabble rousing speeches made a difference in winning back the Labour heartlands then, surely they can do the same again, when so much is at stake.
The latest poll from Ipsos Mori puts the SNP on 52% and Labour on 24%, which would result in unprecedented gains for the separatists at Westminster, where they currently have just six MPs, and a potential disaster for Labour's 40-seat Scottish contingent.
Jim Murphy, Labour's new leader north of the border, is both incredulous and dismissive of the polls they will change, he said, "but change late".
Let's hope he is right, as the prospect of the SNP holding sway in the Union they wish to destroy is chilling.
It is astonishing, given the failure of the Nationalists in government here, that voters are not running a mile from them.
Why encourage politicians who are more interested in meddling with the constitution than addressing the massive problems in our public services?
Mr Murphy thinks that if he focuses on the SNP's appalling records in education and health, the section of the electorate flirting with nationalism will swing back to the Labour camp.
He is a persuasive campaigner, and was undoubtedly one of the heroes of the referendum battle, with his Irn Bru crates and his good- natured deflection of vicious Nat brickbats.
But there is nothing like a veteran heavyweight to plead with the nation's conscience and the Blairite Murphy has embraced Mr Brown as an electoral asset, sharing a platform with him during Monday's announcement on giving Scotland more benefits.
The SNP seems to agree that the former Prime Minister is a danger to their ambitions because they have wasted no time going on the attack. Mr Murphy, they say, has been sidelined by the Kirkcaldy and Cowdenbeath MP after only 50 days as Labour chief.
Yet a similar scenario is being enacted within Nationalist ranks, with a rookie leader trying to assert herself against an uncaged big beast.
The difference, of course, is that Alex Salmond is contesting a Westminster seat so there was never any question of him joining the SNP campaign.
Whether his successor, Nicola Sturgeon, envisaged quite how prominent a role he would be playing, however, is another matter.
She has had to remind her MPs that she is the boss, and she, not he, will decide if her party enters any Westminster power sharing deal (assuming they have the necessary electoral clout, that is).
And she is also trying to make her presence felt with frequent visits to London, despite viewing the city and all it represents as the enemy of Scottish secession.
Mr Salmond won't go away until (fingers crossed) the constituents of Gordon tell him to in May so Scots must steel themselves for an election sideshow, a clash of the titans, in the run-up to polling day.
Mr Brown, apart from delivering speeches, may be used in direct mail and TV election broadcasts. While he proved difficult to rein in during the referendum, his solo mission to save Britain produced some of the highlights of 2014 and his authority here remains undimmed.
Mr Salmond, meanwhile, will do whatever he wants, popping up on Sky to tell the English what's good for them, calling radio phone-ins to settle personal scores, or scheming about his place in a Labour cabinet.
The major worry for his party, though, is that he is not so much a secret weapon but an unguided missile.