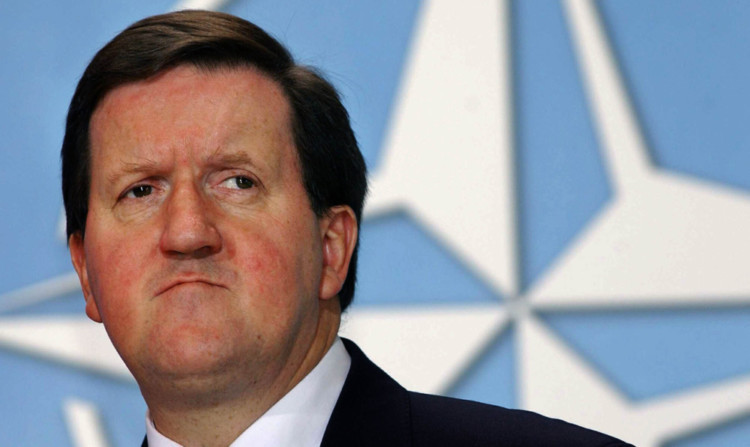 It is not known exactly how many members of the armed forces are eligible to vote in September's referendum or whether their numbers could affect the overall result, but they have become the latest battleground between the Yes and No camps, a key constituency whose support moral if not numerical is highly valued by both sides.
It emerged last week that fewer than 200 servicemen and women, out of thousands, had so far registered to vote, with less than three months to go until the independence poll. While Scots who have moved abroad don't have a say, service personnel posted overseas do.
However, it is feared many do not know their rights and only 153 had applied for postal ballots by the weekend, according to reports. The shadow international development secretary Jim Murphy said it was up to the Scottish government to contact all armed forces stationed outside Scotland and inform them of their entitlement.
"Those who risk their lives for our safety must not be cut out of this referendum," said the Labour MP.
A Scottish Government spokesman said it wasn't their responsibility to raise public awareness of the referendum; that was the job of the Electoral Commission. But it would be quite convenient for the ruling SNP if the military vote did not materialise, for it's pretty obvious which way it would go.
Although many Scottish servicemen and women have traditionally joined local regiments, and today many are still part of Scottish units, such as The Black Watch and the Royal Highland Fusiliers, they all serve in the British Armed Forces.
There are Scots in the Special Forces, in the Household Cavalry and the Parachute Regiment, just as there are South Africans, Fijians, English and Welsh in the Royal Regiment of Scotland.
More than almost any other organisation or institution in the UK, the services are impossible to unpick along geographical lines. Their allegiance to a British fighting force that has been through two world wars transcends notions of national boundaries within these islands.
Attempts by the nationalists to rearrange our soldiers, sailors and airmen into a Scottish Defence Force would leave an independent Scotland being guarded by a "Dad's Army", said the former Nato secretary general Lord Robertson when the SNP's defence blueprint was published.
The defence secretary Philip Hammond said Alex Salmond's plans to spend £2.5 billion on a Scottish force ignored the need for a training budget, engineers, reservists, intelligence, logistics and transport and communications units. There would be no Sandhurst, no operations, no opportunities and no excitement.
Such a limited Scottish force, focused on home defence and peacekeeping, would also put thousands of defence industry jobs, including shipbuilding, at risk.
Lord Robertson said that when he'd spoken to troops he hadn't "met any who think this tiny, non-expeditionary army is a good idea. The prospects for seeing any action, serving overseas or promotion simply wouldn't be there".
It is unlikely that those currently serving or those planning on joining the armed forces would sign up to such back-of-an-envelope proposals which are against nuclear weapons but for the nuclear alliance Nato when there is a fully fledged (if recently depleted) alternative in HM Armed Forces.
That doesn't mean there is no backing for independence among servicemen; one of the most high-profile separatists, the chairman of the pro-independence Business for Scotland, is Falklands veteran Tony Banks. And Mr Salmond's transport minister, Keith Brown, is also a Falklands vet.
But a majority of Scottish personnel, whatever their politics, would prefer to remain in the British armed forces, according to a survey carried out last year for the Henry Jackson Society think tank.
Endorsement by the military is prized by both factions in the referendum debate. Enthusiastic turnouts at recent events, such as Armed Forces Day in Stirling and the Cateran Yomp (raising funds for the Soldiers' Charity), confirmed the public's pride in the services and underlined their current popularity.
Mr Salmond has tried to harness that military magic for his own cause, with vague promises to retain the Scottish regiments, but defence of the realm is the weakest of the nationalists' threadbare post-independence plans.
On this front, it seems the battle has already been won by the unionists.