 Nigel Farage, the leader of Ukip, has offered to prop up a minority Conservative government if the general election produces a hung parliament.
He said that Ukip, along with Northern Ireland's Democratic Unionist Party (DUP), would support the Tories on a vote-by-vote basis, as opposed to a formal coalition, in exchange for a referendum on Europe before Christmas.
Meanwhile, Alex Salmond, until recently leader of the SNP, has again proffered his party's backing of a Labour government, if Ed Miliband does not win an outright majority.
Labour, said Scotland's former first minister, would find it "very difficult" to turn down such an offer. Like Mr Farage, he prefers a vote-by-vote deal, rather than a full-on coalition.
Mr Salmond has promised to "shake Westminster to its foundations" should he be elected in the north-east constituency of Gordon. Mr Farage, who is standing for South Thanet, in Kent, said grandly, "this is our time".
In case you hadn't noticed, both Mr Farage and Mr Salmond have books out, the Ukip leader's a memoir of his life to date, and Mr Salmond's a diary of the independence referendum campaign.
Neither man is in need of another platform to air their views, given that both have a gift for self-publicity, but publication dates so close to the election may help focus voters' minds.
Normally, the rantings of a couple of loose cannons would not be taken seriously by the political establishment.
However, Mr Salmond led his party to victory in two Scottish elections and must take much of the credit for its current popularity in opinion polls.
Mr Farage has steered Ukip from the nutty fringes to a mainstream contender, adept at winning European Parliament seats, as well as a couple of Westminster ones. He reckons on upping this to six MPs after May 18.
Mr Salmond aims to re-enter the Commons with 40 or more fellow separatists, a huge increase on the SNP's present tally of six.
Leaders of such staggering self-confidence tend to believe that the more the public hear of them, the more they will love them. But I think (and hope) the opposite may happen.
What is striking about the extracts from both men's books is how similar they are in tone. Intemperate language (the Conservatives, says Mr Farage, are "ghastly"; David Cameron, says Mr Salmond, is a "Tory toff") and personal conceit, combined with fantasy policies and paranoia (both are convinced the BBC is out to get them), remind the electorate how reckless a protest vote for either would be.
Mr Salmond's SNP wants to dismantle Britain's defences just as the world grows more dangerous; if he'd won the referendum, he would have bankrupted Scotland by now, with his economy based on oil.
Mr Farage is anti-Europe and anti-immigration but he hasn't set out a detailed manifesto for government; like Mr Salmond, he doesn't expect to form the next administration, just to influence it.
A senior Lib Dem annoyed the Nationalists over the weekend by suggesting that the SNP had much in common with Ukip, and other far right parties in Europe "You have different kinds of nationalism on the rise in this country," he said.
The similarities were also drawn two years ago by the then Scottish Secretary, Lib Dem MP Michael Moore, who said both parties had "a hard need to assert a specific sense of national identity".
Neither Mr Farage nor Mr Salmond would welcome the comparison, but both are radicals representing radical positions. A British government dependent on either Mr Farage's extreme xenophobia or Mr Salmond's extreme regional self-interest would be an unstable one.
They obviously won't see it like that. They are mavericks who, as seasoned (especially in Mr Salmond's case) trouble makers, pride themselves on disturbing the political balance with their single issue agendas.
Clever crowd pullers as they both are, they have made considerable headway in their respective causes, making promises often to the most disenchanted voters that they have no way of keeping.
But thanks to their books, and their relentless self-promotion, they are fast becoming the victims of their own hype.
Looking more and more like saloon bar bores, they will surely awaken people north and south of the border to the lunacy of throwing away votes on parties which make a lot of noise but not much sense.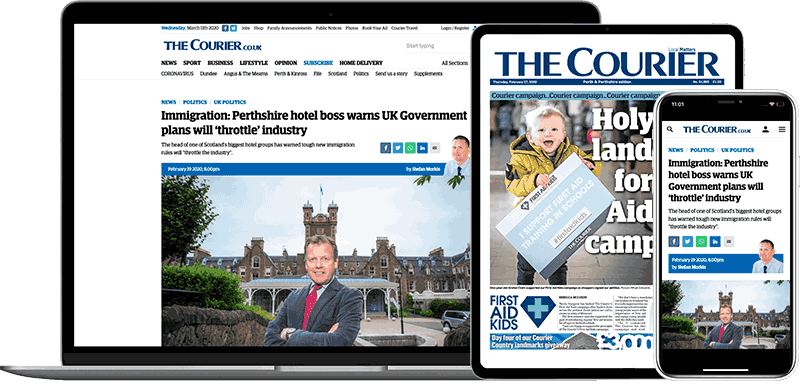 Help support quality local journalism … become a digital subscriber to The Courier
For as little as £5.99 a month you can access all of our content, including Premium articles.
Subscribe