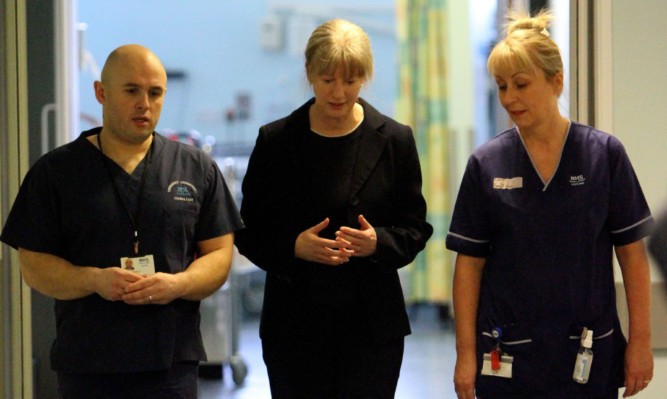 One of the key claims of the SNP towards the end of the referendum campaign last year was that it alone could safeguard the NHS in Scotland.
This theme that the Nationalists were the custodians of free health care became a rallying cry of the Yes movement and although it didn't secure them independence, it carried the SNP far in May's general election, when they resurrected the health card to attack the Tories.
While the evil English at Westminster were intent on privatising the health service, the Scottish model different and better was safe in the separatists' hands.
However, the fallacy of that argument has been exposed over the past few months and now even the most slavish followers of the SNP would have to acknowledge that the NHS in Scotland may be different to England's but it is certainly not better.
Creaking
The news that St John's Hospital in Livingston is creaking so badly at the seams it has had to close a children's unit for the summer follows a similar shutdown at the site three years ago.
And the health minister, Shona Robison, could give no assurances, when pressed over the weekend, that the scenario would not be repeated next year.
She blamed staff shortages in particular, of paediatric specialists and said this was not just a problem for Scotland. However, what goes on elsewhere will be of no comfort to Scots, who have been promised a utopian health system by the SNP in exchange for their support at the ballot box.
Health has been devolved in Scotland since 1999 and under the control of the Nationalists since 2007. They have total responsibility for allocating health budgets and for setting health policy.
So if there is a staff crisis, as in Livingston, or if waiting time targets are missed, as they have been in accident and emergency wards and in cancer care, Scottish ministers cannot pass the buck.
If there are bed-blocking issues and cancelled operations, as there have been in the country's hospitals, according to official figures, we need look no further than the health minister.
It is a tough political portfolio perhaps the toughest and it is usually given to a tough operator. Nicola Sturgeon preceded Robison but her attention must have been diverted even then because the current failings in the NHS have taken time to build up.
However, the minister must be held to account and it is not enough for Robison to say consultants are "hard to come by".
In Perth, it is general practitioners who are apparently thin on the ground, forcing the closure of the out-of-hours GP service at the Royal Infirmary for the summer.
There is no indication from our universities that we are training fewer doctors and all signs point to a profession as competitively attractive since devolution as it has ever been.
Is the problem, then, one of hanging on to medics once they are qualified?
I know of several junior doctors who have gone from Scottish schools to English teaching hospitals and from there straight into the English NHS.
But does the reverse happen? Are the students fighting for places on Scotland's medicine courses staying in Scotland once they graduate?
Do we even have a breakdown of how many medical students come here from England or overseas and therefore pay fees for their tuition but may be inclined to head home afterwards?
"Less priority"
Labour accuses the SNP of squeezing health resources and although the Scottish government defends its health spending, more is spent per head in England increasing 4.4% more than inflation between 2009/10 and 2015/16 compared to a 1.2% cut in Scotland over the same period, according to the Institute of Fiscal Studies.
The institute analysis concluded the government here had placed "less priority" on NHS funding than Westminster had in England.
If that is still the case, Robison should come clean and rectify the situation immediately.
One way to do this might be to abandon vote-winning but expensive gimmicks such as free prescriptions but there is no chance of that with another election on the horizon.
So long as there are voters to be bribed, vitamins and cough sweets will continue to be state funded but long-term solutions for the NHS, sometimes requiring unpopular streamlining of services, will be postponed indefinitely.
With children's wards closed in the Lothians, hygiene standards flouted in the Borders General Hospital (where staff are, no doubt, under pressure too) and GP services curtailed in Perth, the SNP's handling of the NHS is nothing to boast about.
This is unlikely to stop them campaigning in Scottish elections next May on their "record" in health but toying with a vital service for political ends is shameful and Scots should not be fooled.
Help support quality local journalism … become a digital subscriber to The Courier
For as little as £5.99 a month you can access all of our content, including Premium articles.
Subscribe