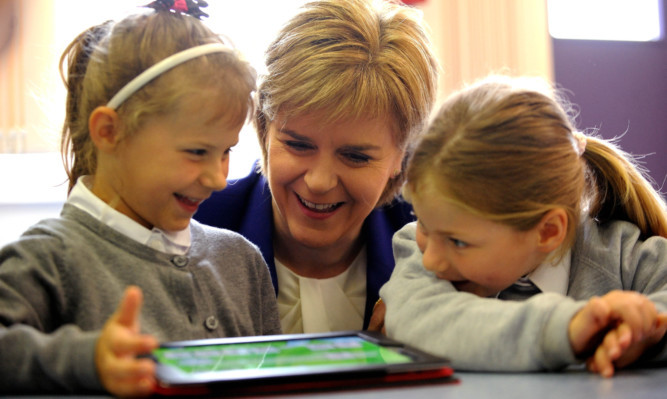 Scottish schoolchildren need many things: a better grounding in maths and science; sharper literacy skills; greater access to university places if they are from deprived areas; teachers who are free to teach and heads who are allowed to run their own schools.
What they could probably do without if they are to make their way in the world are compulsory lessons in the Scots 'language'.
Unlike Gaelic, which is a distinct language, Scots is a dialect of English, with regional variations, such as Doric.
Scots is part of Britain's rich cultural heritage, in the same way that a Yorkshire or Somerset accent is, and can be music to the ears, sometimes.
But to propose, as Scotland's education establishment has, that it be given equal treatment as English and that all Scottish pupils learn to speak, write and read it is surely a joke.
It's not as if our schools are in a position to waste time with their young charges. There has not been any good news for Scottish education for some time and even the First Minister, Nicola Sturgeon, belatedly admits our slipping standards are 'unacceptable'.
After years of Nationalist and before that, Labour and Lib Dem denial, it is heartening to hear a change in tune from the complacency that has bedevilled the schools portfolio for so long.
But will Sturgeon's message to educationalists last week, that getting education right 'really matters', make a difference? It is hard to be optimistic.
While the revolution in English schools is being hailed as a miracle, transforming hopeless inner city institutions into beacons of high achievement, Scotland has nothing to show for its 'reforms'.
The Curriculum for Excellence, described as a 'handicap' to teaching, has made Scotland's education record worse. Since its introduction, literacy has declined in primary and secondary schools, according to the Scottish Survey of Literacy & Numeracy.
The attainment gap between advantage and disadvantaged children continues to grow and last week figures from the Universities and Colleges Admissions Service revealed that school leavers from deprived areas in England are now twice as likely to go to university as their Scottish counterparts. So much for the SNP's policy of free tuition fees levelling the playing field.
The response of the quango Education Scotland is not to hang its head in shame at the catalogue of disasters it has presided over in recent years, but to issue guidance to hard pressed schools about teaching Alice in Wonderland in Scots.
It also recommends that councils could treat Scots as a foreign language, which presumably means that some children would be persuaded to take it up instead of, say, French or German or even Mandarin.
While other Europeans acquire languages to help them compete in the increasingly global market place, our youngsters will be able to speak in a tongue unintelligible to most of their countrymen, let alone to foreigners.
Sturgeon has visited New York and London to see how they have addressed their education challenges. She would have learnt, certainly from London, that liberating state schools from the local authority control and handing power to head teachers has produced a dramatic turnaround.
The academy system, launched by Tony Blair and accelerated under the Conservatives, has given London the best GCSE results in England. Nationwide, the project has been so successful that England's top state schools now out-perform its fee-paying schools at A level, a far cry from the picture north of the border.
Rather than empowering a government body, such as Education Scotland, to dictate what a school must and must not teach, English schools set their own agendas. There is absolutely no reason why Scotland cannot follow this example.
Sturgeon should also listen to those leading educationalists calling for Scotland to be included once more in global surveys.
The SNP pulled out of the Trends in International Mathematics and Science Study and Progress in International Reading Literacy Study in 2010 embarrassed, perhaps, that these were an indictment of Scottish education.
Lindsay Paterson, professor of education policy at Edinburgh University, and Keir Bloomer, deputy convenor of the education committee of the Royal Society of Edinburgh, have said that Scotland's performance must be judged in relation to other countries if it is to improve.
They also called for more autonomy for Scotland's schools.
Sturgeon announced last week that national testing at primary level will be introduced, a tentative sign that she may be serious about wanting change. Will she go all the way?
She must realise that a radical overhaul in line with England's is the only solution. But first she would have to acknowledge that, in this policy area, Westminster has got something right, and Holyrood and, for the past eight years, her party have been wrong.
Whether she can rise above Nationalist interests to defend the national interest remains to be seen.