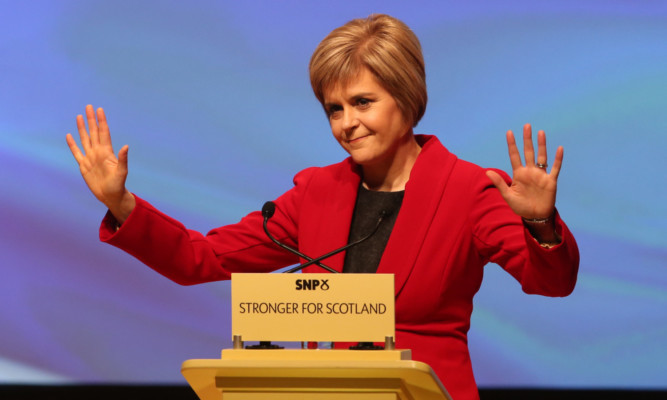 Nicola Sturgeon must wish she could turn back the clock a year to the triumphant scenes that marked her first party conference as SNP leader or to the glory days of the May general election when the Nationalists almost wiped other candidates off the political map.
Even a few months is a long time in politics and she faces the party faithful tomorrow with several dark clouds threatening to burst.
For all the whooping and cheering that will no doubt greet her, she knows the country is watching her government and its patience could soon run out.
Sturgeon, like her predecessor, came into power armed with promises but, like him, she is breaking them one by one.
Most recently, she has reneged on her pledge over a second independence referendum.
She previously said there would have to be a major change in circumstances, such as Britain leaving the EU, before another ballot was held.
On Sunday, however, she told the BBC's Andrew Marr Show that a new vote was now "inevitable".
Disregarding the majority of Scots who rejected separation last September, she suggested she would be guided by opinion polls.
If she had intended to keep the focus this week on next May's Holyrood elections she has failed before SNP delegates even arrive in the Aberdeen conference centre.
Navel gazing
Some will say she has to appease the activists who signed up to the party in the wake of the Yes campaign and have been clamouring ever since for a referendum rerun.
That may be partly true but more constitutional navel gazing would also help Sturgeon deflect attention from a disappointing record in office to date.
With much talk about building a fairer and more equal society, her SNP has done as little as Alex Salmond's to improve people's lives.
For example, the education attainment gap between privileged and underprivileged children continues to grow here, while in England, under a reforming Tory administration, it is shrinking.
Sturgeon said she would get stuck into the problem of Scotland's schools but her SNP has done nothing.
It has, however, incurred the wrath of this country's respected academic community by threatening to meddle further in university governance and rob these excellent institutions of their international reputation.
The First Minister has also presided over a crisis in the health service, with Glasgow's flagship new hospital hit by staff shortages, children's wards closing and patients left without access to GPs.
Then there was the debacle of Scotland's single police force, an embarrassment Sturgeon inherited from Salmond and his hapless justice minister Kenny MacAskill.
Within two years of being established, its first chief constable, Sir Stephen House, is in the dock over stop-and-search, armed officers and mishandling a fatal accident and out of his job.
There will be a review, said Sturgeon, but what will that accomplish? The Nationalists do not listen to expert advice, as the toothless committee system has proved.
Culture Minister Fiona Hyslop, mired in a cronyism row over her decision to subsidise a profit-making pop festival with taxpayers' money, will not be hauled back to face the music by Holyrood's education and culture committee. There will be no reckoning either for the Rural Affairs Minister Richard Lochhead, who chose to ban GM crops in Scotland without heeding scientific advice.
This, a political decision to keep the SNP's Green friends on board, will be bad for Scotland, as will the separatists' move to outlaw fracking.
There is no one to hold Nationalist ministers to account over their lapses in judgement because the committees are stuffed with other Nationalists who refuse to censor their comrades.
The public may not have noticed every one of the above disasters but they cannot have escaped the fallout over the property affairs of new Nationalist MP Michelle Thomson.
She has been forced to resign the party whip while investigations are ongoing and SNP posters boasting 56 Westminster MPs have had to be taken down.
The scandal revolves around her solicitor, who was struck off last year for potential mortgage fraud, and questions have been asked about the failure of the Law Society to bring the matter to public attention.
The Lord Advocate said he saw no need for an inquiry into any of this and presumably neither will the SNP- dominated justice committee.
There is a growing whiff not just of complacency within the party but of something more odorous: contempt for the voters.
Sturgeon said this week: "People across Scotland see the SNP as the party which will always stand up for Scotland's best interests, whether at Westminster or Holyrood."
That line may still work in a conference speech but it won't be long before people realise it is the SNP's, not Scotland's, interests that are being served.