 Today our correspondents suggest a name for a new bridge and discuss tax breaks for the computer game industry, green energy, religion and schools.
Name new Perth bridge after famous angler Sir, One of your readers suggested that a bridge over the River Tay at Perth, intended for pedestrians and cyclists, was a waste of money. How very Scottish.
The cost of £1.38 million appears a good investment given that Scotland is often seen as the sick man of Europe with high death rates from heart disease and strokes.
Anything that enables us to improve our lifestyle by reducing the burden on our health services must be money well spent and the council should be applauded.
As concerns a name for this landmark, might I suggest Ballantyne's Bridge after Miss Georgina Ballantyne, who will forever be linked with the river having caught a Tay salmon in 1922 weighing 64lbs – a UK record for a salmon landed by rod and line.
Kenneth G. N. Stewart.Landalla,Florence Place,Perth.
Throwing good money after bad
Sir, I am not sure if Steve Bargeton was being tongue-in-cheek in his recent diary column (September 18) but his opinion on the computer games industry was neatly juxtaposed with an article on the opposite page about the collapse of Dundee firm Realtime Worlds.
Your political editor says that providing £40 million of tax breaks per year to the sector would provide the public purse with a net gain of £400 million in tax receipts and create 3500 graduate-level jobs and presumably solve world poverty and reverse global warming at the same time.
If only life was that simple. The figures provided sound like typical industry/ political spiel.
Meanwhile, back in the real(time) world, your other article quoted an industry expert as saying that the firm's pivotal APB game attracted sales of only one ninth of that necessary for its survival.
It seems unlikely that tax breaks would have somehow enhanced the game sufficiently to increase its sales nine-fold.
As history has shown time and time again, throwing public funds at fundamentally uncompetitive products and businesses is just taxpayers' money down the drain.
Of course, taxpayer-funded assistance and a favourable regulatory environment can help industry in appropriate circumstances but the Scottish political mindset seems dominated by the need to find a deserving home for as much public money as possible – and there's always a queue of willing recipients, whether in the private or public sector.
And while the bills for the profligacy have to be paid eventually, both Labour and the SNP seem preoccupied with trying to deny their part in the spending spree, while the Tories and Lib Dems are being accused of threatening the economic recovery by being over-zealous in trying to turn off the tap.
Stuart Winton.Hilltown,Dundee.
Fantasy of green future
Sir, The articles covering the views of the MSPs Jim Mather and Murdo Fraser on wind farms (September 20) are yet another reminder of the dangers of expanding onshore wind production in Scotland.
Murdo Fraser is correct in pointing out the adverse effects on our landscape and hence tourism but the concept of visual amenity is subjective and personal.
What is more objective and less arguable is the cost of installing the infrastructure and the vast amount of subsidies and incentives given to landowners and developers, relative to the amount of dependable electricity actually produced by wind turbines.
Jim Mather and the Scottish Government have long known that wind farms are very poor sources of dependable power, frequently producing less than one per cent of UK supply.
He and they also know that Scotland only produces around one-fifth of one per cent of the world's carbon emission "problem."
As Energy Minister, Jim Mather owes us all an explanation of why he and his colleagues expect consumers to pay high prices to solve a "problem" that scarcely exists, using a system that scarcely works and at prices more and more people will scarcely be able to afford. It is time the fairy tale of wind power was ended.
Ron Greer.Armoury House,Blair Atholl.
Two-fronted attack on church
Sir, Ian Wheeler asks if the threat of Islam is uniting Catholics and Protestants in the fight for survival (September 21). Let us hope so.
Islam has powerful non-Muslim players in the field if you count the secular, the atheist and the left-liberal neo-Marxists, all with their own particular reasons for supporting Islam.
The average British secularist disputes any religion but more so Christianity. The average militant atheist attacks the Christian God but, when challenged similarly to treat the Islamic God, refrains, claiming all religions are the same.
The neo-Marxists are the most dangerous. Their liberal organisations support Islam in its anti-Christian and anti-capitalist stance which makes them useful in the fight to establish a "progressive" society.
Andrew Lawson.9 MacLaren Gardens,Dundee.
Educational poverty trap
Sir, David Robertson's suggestions that the way to improve school performance in Dundee is to have more religion in them is simplistic and laughable.
He erroneously states that schools in Scotland which are not Catholic are Christian. Presumably he means Protestant. I have never come across a school in Scotland which describes itself as Protestant.
They are non-denominational. The solution to the gap between the children living in poverty and those who are not is a redistribution of wealth. We do not need to scare children into obedience by telling them untruths about eternity in hell.
Alan Hinnrichs.2 Gillespie Terrace,Dundee.
Get involved: to have your say on these or any other topics, email your letter to letters@thecourier.co.uk or send to Letters Editor, The Courier, 80 Kingsway East, Dundee DD4 8SL.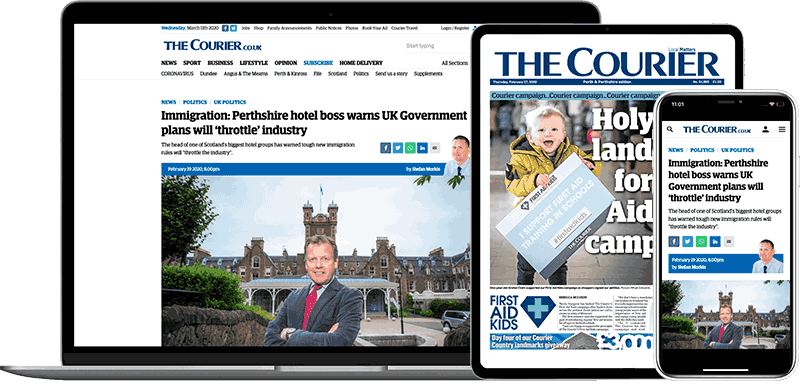 Help support quality local journalism … become a digital subscriber to The Courier
For as little as £5.99 a month you can access all of our content, including Premium articles.
Subscribe