 Friday's scribes discuss Scotland's footballing philosophy, the government's fiscal clout, John J Marshall and a Dundee MP's role in Gaza.
Scots boss needs to show more faith in players Sir,-I see that Scotland's players "won back their pride" against Spain. Which begs the question: "When did they lose it?"
Against Czech Republic it wasn't the men on the park who deserved criticism, it was the off-field team, led by coach Craig Levein, who dreamed up a ridiculous 4-6-0 outfield system which showed a lack of faith in the players at their disposal.
A return to football sanity against Spain saw a willing and hard-working unit score twice against the European and world champions because they had players who worked up front and made themselves available for forward passes.
Yes, again, it was so near and yet so far as Spain scored three goals, but I hope Mr Levein registered the fact that for the first time in ages the people who matter, the Scotland supporters, really enjoyed watching their team and produced today's minor version of the original Hampden roar.
We may in future, as is claimed, have to watch a version of football which has been likened to chess, but it is blindingly obvious that in Scotland at least the massive vote is for having a go as well as defending and I firmly believe that is the view of the players as well as the fans.
Ian Wheeler.Springfield,Fife.
Flexibility to deal with issue
Sir,-Perhaps without knowing it, Dundee University principal Professor Pete Downes made a strong case for more fiscal powers for Scotland with his views on a graduate tax (Courier, October 13).
The Scottish Government has the power to vary income tax by 3p in the £ for all the population.
The coming legislation based on the convoluted Calman report will bring forward amendments to the Scotland Act with more powers to vary tax. But there is nothing specific which relates to graduate income.
Secretary of state for Scotland Michael Moore could bring forward new legislation to deal with this point.
It would give the Scottish Government, of whatever colour after next May's elections, some flexiblity to deal with university finance north of the border. There seems to be near-unanimity among college and university heads that the existing situation cannot continue.
That has to be balanced against what seems to be widespread public opposition to upfront fees, at least for Scottish students. The graduate tax makes sense in terms of ability to pay and widening access to higher education.
It can't be a complete substitute for more private investment in higher education, more efficiency within universities or better co-ordination among further and higher education bodies. It will never please those who feel higher education should be financed solely by the taxpayer. But it is a radical approach that might help bring together a number of conflicting vested interests.
Bob Taylor.24 Shiel Court,Glenrothes.
Idea for Dundee to digest
Sir,-When are Dundee's city fathers going to become as wise as their Perth counterparts?
Faced with the looming disaster of an incinerator within the city boundaries, they opted instead for an anaerobic digester with all its attendant benefits.
Were Dundee to do the same, the ground would be cut from under the feet of the consortium desirous of imposing an environmental disaster upon the city.
Think of the savings no huge subsidies, landfill tax virtually eliminated, no risk of increased atmospheric pollution, no importation of potentially forest-destroying diseases. Instead, we have earnings!
All waste is composted to be sold on and re-used on the land, then power generated from methane is fed to the grid. Waste to wealth simples!
Mike Stirling.Noranside,Forfar.
Mr Letford still has principles
Sir,-John J Marshall has been described as a "treasure" in recent correspondence, and to some he may be. Others, reading his often vitriolic attacks on individuals, may wonder where The Courier dug this particular treasure up.
Almost on a weekly basis Mr Marshall uses his column to attack the SNP, either as a party or individual party members. The sheer repetitiveness of these attacks and the language employed is becoming tedious.
Today (October 13) he has widened his attack to include John Letford, using such disparaging phrases as "former Labour councillor who deserted his party so he could remain as civic head with the support of the nationalist group."
This is a gross insult to a man who has carried out his civic duties with a great deal of dignity and has brought nothing but credit to the office of Lord Provost and to the city. Outside the world of disgruntled opposition politicians who have lost their lucrative sinecures and acerbic journalists.
John Letford is held in high esteem he may have deserted his party in common with many others but so far there is no evidence he has deserted his principles, principles his former Labour colleagues have long ago abandoned.
James Smith.4 Brownhill Place,Camperdown.
Focus closer to home
Sir,-I read with interest in Saturday's Courier that my MP, Joe FitzPatrick, intends to be on board the next aid flotilla to Gaza.
I hope this trip will be taken as annual holidays and he will be funding the trip himself. I voted for Joe to look after the people of Dundee West.
I agree, the blockade of Gaza is a bad thing. However, if the good people of Gaza (of whom there are many) could stop Hamas, the very bad people of Gaza from firing rockets into Israel or blowing up innocent people on buses in Tel Aviv, there would be no need for a blockade in the first place.
Stay here, Joe.
Steve Clark.Clayhills Drive,Dundee.
Get involved: to have your say on these or any other topics, email your letter to letters@thecourier.co.uk or send to Letters Editor, The Courier, 80 Kingsway East, Dundee DD4 8SL.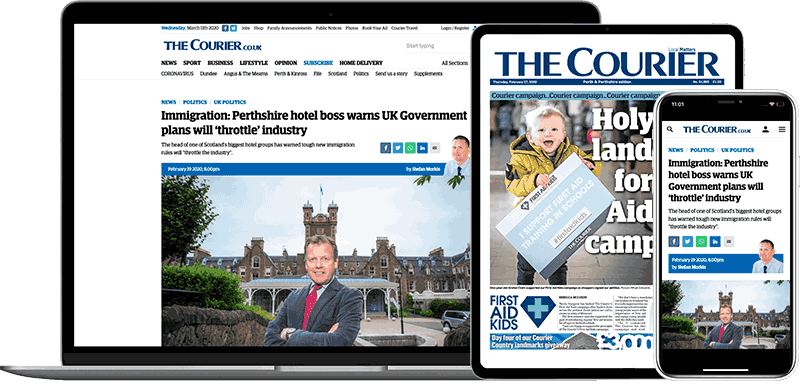 Help support quality local journalism … become a digital subscriber to The Courier
For as little as £5.99 a month you can access all of our content, including Premium articles.
Subscribe