 Today's letters to The Courier discuss child benefits, energy subsidies, council tax banding, armed forces pensions, the Dundee aid effort for Gaza, and the Conservatives.
Limit handouts to irresponsibly large familiesSir, Culture Secretary Jeremy Hunt received hysterical abuse for daring to suggest that before producing vast broods, people might consider whether they can afford them.
Yet to those not living on benefits, he was merely stating the obvious and most of us confine ourselves to two or three children because we cannot decently rear more.
The fact that the entire welfare system is run on the basis that unlimited assistance is provided in accordance with the size of a recipient's family is clearly a moral hazard.
The poor must be protected from the worst consequences of failure but that does not absolve them from accepting some responsibility for their lifestyle choices.
The dependency culture will persist and worsen unless limits are set to the rewards for irresponsibility.
(Dr) John Cameron.10 Howard Place,St Andrews.Subsidies push bills upSir, Your front-page article by Stefan Morkis on fuel poverty and rising energy prices (October 30) certainly hit a chord.
The timing of the increases by Scottish and Southern Energy of 9.4% from December 1, is bordering on the criminal.
But the real criminality lies with the politicians who voted for the 2008 Climate Change Act, committing the UK to cutting CO2 emissions by 80% by 2050.
In turn, energy bills have been increased to subsidise the builders of useless windmills and hideous giant pylons despoiling Scotland's only remaining natural resource its landscape.
Patrick Healy.4 Waterside View,Carnoustie.Double tax standardsSir, It is a bit rich for Labour MSP Marlyn Glen to complain about the basic unfairness of the council tax (October 29) when it was the Labour Party who increased everyone's bill by 60% when they were last in power in Scotland.
Band D households in Westminster Council area in London, pay council tax of £690.
By contrast, in Dundee, similar households are now forced to fork out double this figure.
Ms Glen may think that is fair but I suspect many hard-working Dundonians would disagree.
It is the SNP who have frozen the council tax in Scotland in every year they have been in Government and it is Labour who now threaten to end it and to hike it up, as if council tax was a personal fund for Labour politicians.
If Ms Glenn is seriously concerned about the inherent unfairness of the council tax, she should be promising the people of Dundee and Scotland that she and her party will scrap it.
Kevin Donnelly.36 Winnipeg Quay,Manchester.Troops do fund pensionsSir, I feel I must correct your correspondent Stuart Allan who stated that members of HM forces do not contribute towards their pensions. The Ministry of Defence was forced to admit in the 1980s that salaries of service personnel were abated by 30% to fund pensions.
This is a substantial deduction from an employee base that were not allowed to complain publicly, even if they had known about the practice.
I doubt if many civilian employers, even in the current climate, would dare to adopt such a secretive procedure against such a loyal workforce.
C. R. Garland.102 Califer Road,Forres.Back to days of Tory cutsSir, Recently, while walking in the Perthshire hills, I viewed a formation of Tornados GR4s from RAF Lossiemouth skimming across the hilltops.
But I have this sinking feeling that the decision to close that base and move its Tornados to RAF Marham has already been taken on political grounds.
The Tories have so little support in Scotland but, by moving facilities down south, they can please voters in Middle England. It has not taken David Cameron long.
Just a few months after becoming Prime Minister, he is starting to rip the heart out of Morayshire.
Thomas Brown.6 Tulliebelton Road,Bankfoot.Aid reaches Gaza 'terrorists'Sir, I've read The Courier for more years than I care to remember.
Your political viewpoint has not always agreed with mine and I took this to be normal in a free society, more a cause for contentment than complaint.
But then you used the term "vital aid" more than once in your reports to describe the extraordinary supply of goods to Gaza which not only ignored the confrontational approach of the self-styled humanitarians and the fundamentals of the Arab/Israeli conflict but also ignored reports that gave the lie to the need for any such "vital aid".
Indeed, in this context, the term "vital aid" promotes support for the terrorists of Hamas, who control Gaza.
Andrew Lawson.9 MacLaren Gardens,Dundee.David Cameron snatches defeatSir, Only a politician could present abject failure as achievement. David Cameron would have us believe that limiting the EU budget increase to 2.9% is reason for congratulations.
He seems not to realise that the EU is the sum of its parts, all of which are currently enduring severe cuts in public expenditure.
Incredibly, part of the proposed larger increase is for doubling entertainment expenses, including champagne supplies. If Cameron had any backbone, he would not only refuse any increase in our contribution but directly implement a reduction by cutting our present level of payment.
Robert Dow.Ormiston Road,Tranent.
Get involved: to have your say on these or any other topics, email your letter to letters@thecourier.co.uk or send to Letters Editor, The Courier, 80 Kingsway East, Dundee DD4 8SL.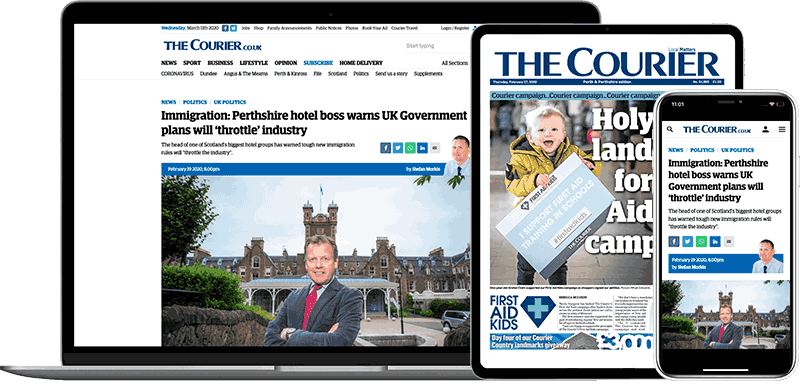 Help support quality local journalism … become a digital subscriber to The Courier
For as little as £5.99 a month you can access all of our content, including Premium articles.
Subscribe