 Sir, It was good to read about the passionate ambassadors we have in the city. People who broadcast far and wide the virtues of Dundee, and rightly so. But anyone with more than two brain cells knows this is a great place to live.
It's built on one of the greatest rivers in Europe with more green spaces than any city I know and there is easy access to the finest glens and ski resorts in Britain. All positive points as long as you are employed and can afford to enjoy them.
Try telling the hundreds of teenagers in this city how wonderful it really is; the ones who have little or no chance of securing any type of future in this fantastic place to live.
Scotland's greatest export has always been its young blood and all the V&A projects and waterfront developments will not make the slightest difference in stemming that flow.
What this incredible city of ours needs is simply employment and no amount of back-slapping is going to cure that. Yes these projects will bring some employment to the lucky few but not to the hundreds.
Look around without the rose-tinted glasses. We have some of the worst poverty in Scotland.
Not easy to be passionate about spending £50,000,000 on a museum when you are living on £80 a week.
Instead, let us be passionate about bringing employment to Discovery City, then we can all go and enjoy looking at Van Gogh's art world.
Bill Duthie. 25 St Fillans Road, Dundee.
Not all genetic modificationis bad
Sir, Sorry to burst Christopher Trotter's bubble (Letters, January 21), but while the sarpo variety of potato showed good resistance to the strain of blight around at the time of its development, it isn't doing so well against the current form of blight which has mutated five or six times since.
This is why I am in favour of genetic modification, cisgenic rather than transgenic, which allows new varieties of potato to be brought to market volumes much more quickly than the traditional methods.
Cisgenic is simply breeding potatoes with other potatoes much more quickly than watching what does well in the field and crossing them. Transgenic is the stupid stuff like introducing octopus genes to potatoes to make them waterproof.
Not all genetic modification is bad.
Neal Robertson. Tannochbrae Tearoom, Auchtermuchty.
What a boon it would be
Sir, The present airport is physically unable to expand to cater for increased traffic from budget airlines and holiday companies as well as national operators.
There is, however, only a few miles away, a splendid, all-weather runway which has had many millions of tax payers' money lavished on it in recent years. I refer, of course, to RAF Leuchars.
Even if the RAF do not move out as planned it was not unknown in the past to have joint-user airfields operating successfully. Looking at the satellite images of the airfield on the internet it appears that there is plenty of scope for the infrastructure required.
What a boon it would be for the population of Tayside and Fife to have it.
John A Dorward. 89 Brechin Road, Arbroath.
Real feelgood factor
Sir, Since the London Olympics I have been hearing about and reading about the feelgood factor almost constantly. Could someone please tell me exactly what that means?
Is it a phrase that has been coined by those same people who call anyone who won any colour of medal at the games (Brits only, of course), a hero?
Their level of fitness and dedication to their chosen sport may be worthy of admiration, but come on, they are not heroes.
What is heroic about rowing a boat, cycling round in circles, or throwing various shaped objects further than anyone else?
My definition of a feelgood factor would be energy companies cutting household bills by half; a couple of quid off the price of a gallon of petrol; politicians stopping treating us like idiots, or given the recent weather, seeing a bit of sunshine occasionally.
It would certainly not be the aftermath of some games that most people couldn't afford to see … even if they wanted to.
T Tolland. East Park Cottage, Braidestone, Meigle.
We need the clout of the UK
Sir, The current situation in Algeria which involved a number of Scots being held hostage by terrorists leads me to wonder how Alex Salmond and his party would handle such a situation in an independent Scotland.
It is only last year that they agreed to maintain membership of NATO so some aid may be available on that front, but his vision of a peaceful nation where everyone is Scotland's ally is far from the truth when you have a nation of people who travel worldwide in search of work.
We need the back-up of the UK Government to help in the war against terrorism.
Willie Robertson. Forest Park Cottage, Lynton, Stanley.
The choiceis simple
Sir, With regard to Scotland's future, surely the choice for the Scottish electorate is a simple one:Do they want a backward looking ex-colonial power harbouring weapons of mass destruction, which deter no-one, or, do they want a country which makes education and medicine its priorities and seeks to improve the living standards of all its citizens?
Joseph G Miller. 44 Gardeners Street, Dunfermline.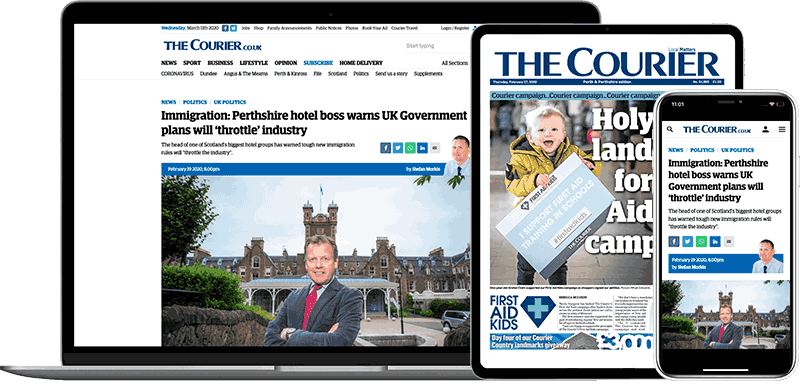 Help support quality local journalism … become a digital subscriber to The Courier
For as little as £5.99 a month you can access all of our content, including Premium articles.
Subscribe