 Sir, I could feel my blood pressure rising and a rant coming on when I read the article stating that the illustrious Iain Duncan Smith had stated he could live on £53 a week.
Is this before or after he's paid the utilities, council tax and rent or mortgage?
I realise cuts have to be made but why pick on people who do not have very much through no fault of their own?
There will always be those who will abuse any system but that is no reason to throw everyone into the same pot.
Even those who are lucky enough to have jobs are finding it very difficult due to the blatant greed of the power companies.
We are not all lucky enough to be earning £1,600 a week, or thereabouts, plus expenses.
I believe the cuts should start with those at the top of the tree and foreign aid should be discontinued for the time being at least; after all, where did that money come from in the first place? End of rant.
Mrs L. Lauder. 47 Monteath Street, Crieff.
It would payto think first
Sir, I'm not sure how many people who are in receipt of housing benefit are paid in cash and have to hand over their rent to the council. If, in fact, they can withhold part of their rent, I would advise them to think hard first.
When council house tenants withheld the "poll tax" 22 years ago, they found councils would hold the non-payment against them all the way to the grave. Today's SNP-controlled councils are still actively pursuing unpaid "poll tax".
Tom Black. 83 Lawside Road, Dundee.
Cost of 'wasted generation'
Sir, Thomas Chalmers was arguably the greatest Scottish cleric since John Knox but today he is best remembered for splitting the Kirk in 1843 and his concept of the "deserving poor".
Yet the Anstruther polymath should be read alongside Kirkcaldy's Adam Smith because his suggestions chime with Frank Field and Iain Duncan Smith's welfare reforms.
One million sickness benefit claimants vanished when told of new health tests, another million were found to be fit for work and only one in eight was found to be genuine.
Such figures are in line with the predictions of healthcare professionals, even though the Church of Scotland and the Archbishop of Canterbury are up in arms.
But the data are also clear evidence of a wasted generation that went on to benefits under New Labour and was never given any incentive or support to get back into work.
Dr John Cameron. 10 Howard Place, St Andrews.
Move would be a good bet
Sir, Given the continuing indecision on the future of Perth City Hall, I wonder why the council has not considered developing it as a municipal casino.
This would be a far greater tourist attraction than a huge, open space, would complement the so-called "caf quarter" and be in keeping with the desire to give a "continental flavour" to the city centre. It would be a source of substantial revenue to the council and provide employment in a range of occupations.
P.H. Taylor. Mossgiel, Snaigow, Dunkeld.
Held up to scrutiny?
Sir, Statements made about the scrutiny and audit committee by the leader of Angus Council in The Courier on March 30 were thought-provoking, to say the least. Councillor Iain Gaul has described this committee as the council's "police force" and claims it "holds this council to account".
The role of this committee would appear to be to scrutinise and audit situations where the propriety of actions taken by the council require investigation.
However, what is not clear is what this committee will actually investigate.
In May 2012, I wrote to Angus Council in connection with the Arbroath Schools Proposals that had been rejected by the Scottish Government because they were "not fully transparent" and were "not wholly accurate". I requested that Angus Council investigate why this hadhappened.
Mr Gaul advised that my request for an investigation would be handled by what he described as "the new and improved" scrutiny and audit committee.
Mr Gaul has recently replied, to a request forfurther information, that none of the concerns raised was ever investigated by the committee.
The operational criteria of Angus Council's private "police force" are unclear. The scrutiny and audit committee also appears to have the power to decide over which issues it "holds this council to account."
Fiona McLymont. 5 Camus Place, Craigton of Monikie.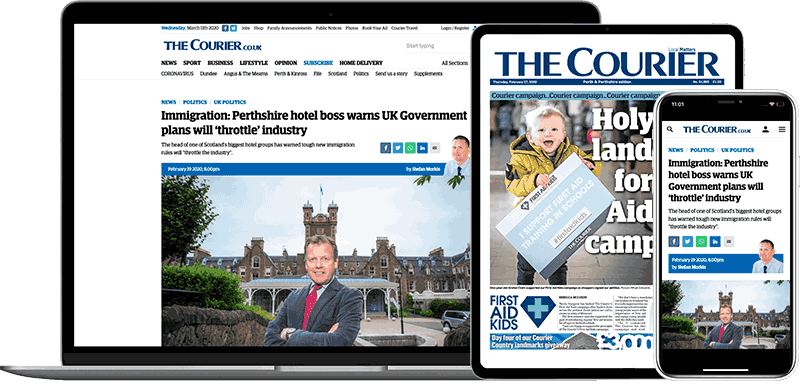 Help support quality local journalism … become a digital subscriber to The Courier
For as little as £5.99 a month you can access all of our content, including Premium articles.
Subscribe