 Sir,- As council tax payers we are all grateful for your efforts in highlighting the appalling state of the roads in Perth and Kinross.
However, the recent article (March 8) fails to capture fully the extent of the problem and the ever-increasing dismay of drivers.
As an example, I cite the following.
The B8062 between Dunning and Auchterarder has at least 10 pot holes in a three-mile stretch.
A number of these measure one metre in length and are 60 mm in depth. Someone, perhaps Perth and Kinross Council, has put a cone in one of these to warn drivers.
Despite contact with the council on numerous occasions and the engagement of local councillors, no repairs have been carried out.
The local garage reports it has carried out repairs to more than a dozen cars related to this stretch of road and I have witnessed people out of their cars taking pictures of the pot holes where their cars were damaged, to put in claims to the council.
This cannot be good business.
Given this situation and to quote the council spokesperson, users of this road believe that it represents "an inherently dangerous circumstance" which, if "a risk assessment approach" was to be applied rigorously would result in this road being attended to as a matter of urgency.
Will it happen? We'll see.
Maarten Versteeg. Craig Rossie, 4 Rossie Steadings, Dunning.
Education key to success
Sir, – As you have reported in recent articles, the only lasting way to good jobs, higher wages and indeed longer life, is to have a good education.
Yes, the schools, council, government and teachers all have their part to play but there are two groups who rarely get a mention. These are parents and (secondary) pupils.
Learning is vital to life and allows you to make choices. Without knowledge you cannot make informed choices.
From what I am hearing, especially from those working in schools north of the Kingsway in Dundee, too many pupils seem to forget that they have a responsibility for their own education.
Parents can help by encouraging home learning by making a wee bit space at the kitchen table.
I am most puzzled as to why, on my way to work past two secondary schools, I see many children without school bags but with the latest technology in their hands.
Don't they need a pen or pencil anymore or are schools having to provide everything?
Stephen Mitchell. Blackness Road, Dundee.
Knock down St John's Centre
Sir, – Jim Crumley is an accomplished writer about hills, birds and things rural but his comments about demolishing Perth City Hall are truly awful.
He gives no evidence that replacing the hall with an empty space would have any benefits whatever.
He makes a sweeping assumption that the space will be architecturally accomplished and he weakens his case by simply giving his personal opinion about the merits of the hall as a building.
It is neither dull nor drab. Possibly the stone could do with a wash but to the credit of Perth and Kinross Council, it is not decrepit.
Nick Hayes, in his architectural guide to the buildings of Perth and Kinross, published in 2000 and partly sponsored by Perth and Kinross Council, describes it as big, bold and baroque.
He admits that the cherubs are oversized. Some people go apoplectic at the sight of them. Well, these could be taken down and someone would buy them for sure.
Suppose, however, that there really is a need for a civic square. The really dramatic step would be to remove the St John's shopping centre, or most of it.
With the exception of the bookshop, most of the shops could relocate to other parts of Perth where there are shops to let.
Meanwhile, why not put solar panels on the roof of the city hall until a new use is found.
If councillors spent as much time concentrating on the city hall as they do on their own offices they might find a solution.
Elsewhere in Perth, it is good to see the former Caledonian Road School redeveloped as flats.
There are some very positive things happening in Perth. We have good libraries, an excellent museum and art gallery and an international standard concert hall and just recently a plan to put some boats on the river.
On the City Hall, however, the council has only ever had one idea: get rid of it.
Martin Roberts. 178b Crieff Road, Perth.
Turn city hall into art gallery
Sir, – I strongly dis-agree with your columnist Jim Crumley who advocates the demolition of Perth City Hall as there is not another building like it in Perth.
To knock it down would be an act of urban vandalism as it is a superb, solid-stone structure.
We should bear in mind the weather when we suggest the creation of an open square for markets and concerts.
We should also remember that if there is a need for open-air concerts, then we have two wonderful Inches.
Let us use the money that would be spent on demolition on creating an additional art gallery.
There are many paintings and artefacts held by the city that are unable to be displayed because of lack of space.
Using the city hall would provide us with that extra space and we could even put our own Carpow log boat on show.
A second floor could be constructed at balcony level and the lesser city hall could be divided into studio spaces to be let out to music, arts and drama groups.
Dundee did up the McManus Galleries and they are getting the V&A. Think about the knock-on effect these developments could have on Perth.
It may bring more people to shops, cafes, restaurants and hotels in the city.
We should throw away the hard hats and put on our visionary bunnets.
Albert Merralls. 2 Muirhouses Cottages, The Grange, Errol.
The original Betty's Jetty
Sir, – Having just read the letter from Andrew Dundas (March 5) regarding Betty's Jetty in Perth, Australia, may I point out there is already one in Perthshire.
It is at Adualich Farm, Loch Tummel. It was built by my husband and named after me. Just thought I would letyou know.
Betty Robertson. 26 Rowan Avenue, Blairgowrie.
Ranting MPs a threat to tourism
Sir, – The letter from Donald Lewis – MPs are no rays of sunshine – will be welcomed by those of us, excepting nationalists of course, who watch their contributions on television from Westminster.
Mr Lewis quotes PG Wodehouse to make his point but I look to my late granny who would say: "They could start an argument in an empty house."
Is it not long overdue for Messrs Robertson, Wishart, MacNeil and their ilk to move on from Bannockburn.
I just hope their rantings in the House of Commons do not put off visitors from coming to that tourist attraction.
RHL Mulheron. 28 Cowgate, Tayport.
Change Sunday trading laws
Sir, – Sunday trading erodes the tradition of a shared day of rest or leisure that can be particularly appreciated by families.
However, instead of sticking their oar into English and Welsh affairs at Westminster, the SNP should make changes in Scotland.
Unless, of course, political gesturing and stirring up grievance is more important than getting on with governing Scotland?
Surely not.
Richard Lucas. 11 Broomyknowe, Colinton, Edinburgh.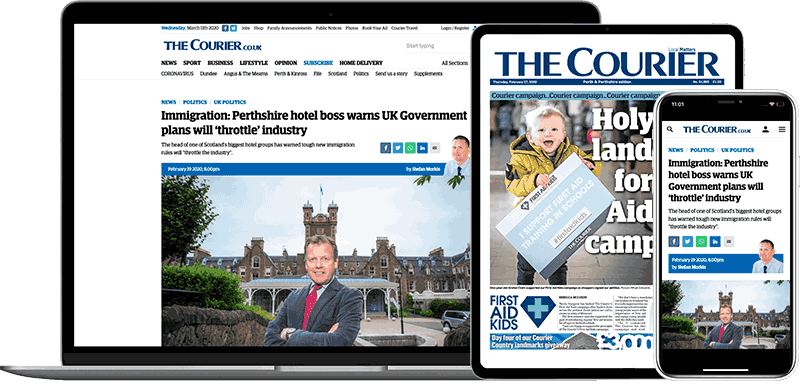 Help support quality local journalism … become a digital subscriber to The Courier
For as little as £5.99 a month you can access all of our content, including Premium articles.
Subscribe