 Sir, I thought your story on Christmas menus for prisoners across Tayside was hilarious.
All that food for people who have committed crimes while others who obey the law are forced to attend foodbanks and seek out pay day loans to get through the festive period.
But, of course, it isn't funny, and it isn't April the First. This was a genuine story.
What is going on with society these days?
Why are we rewarding criminals?
Prison is about rehabilitation, we are often told. No, it's about punishment.
These people have been taken out of society because they are a danger to the rest of us. And now we are paying for them to have a Christmas meal that many families cannot afford.
Why not swap the prisoners around with OAPs?
Give OAPs free central heating, free meals, tasty Christmas dinners, a bed, entertainment, TV, social events, medical care etc.
I think most people would be happy to see their taxes funding security and well-being for our elderly rather than paying for a life of luxury for those who have chosen to abuse society.
Gnr Gardner. Caen Barracks, Hohne, BFPO30.
System has not worked
Sir, That was an excellent article by Andrew Argo on the (almost) painful shortage of tradesmen in our country (December 10).
In my opinion, the introduction of the comprehensive system of "one school fits all" education, has not worked. Even now, our country is suffering a shortage of doctors, nurses and other medical professionals, including dentists, never mind tradesmen.
Some other "university" professions seem oversubscribed, with graduates seeking other types of employment. Something is wrong.
Too much interference from well-meaning, or sometimes chip-on-shoulder, academics and politicians, I believe. Not to mention some curricular nonsense.
The education system of the 1950s, in Scotland, recognised that we could not all become neuro-surgeons (nor did we all want to). There were sound choices available. One could head for "uni" or go for a trade via a junior secondary school (no shame there), followed by apprenticeships and/or well-named technical colleges. Of course, one had to behave oneself and pay attention at school.
The adult population (parents) had a part to play. Work hard, set the example, produce quality products for home and export, profitably, and so create a future for the family children and grandchildren and so on.
We did, didn't we?
A T Geddie. 68 Carleton Avenue, Glenrothes.
Surely we can voice opinion?
Sir, The continued negative obsession with Yes supporters by supporters of the union in the letters page of The Courier is reminiscent of the kind of petulant, arrogant tantrums thrown by toddlers who can't understand why the person they "beat" is getting more attention than they are, and may yet claim the prize they thought they had denied them.
The rather puerile and personal nature of the comments aimed at their pro-independence compatriots only re-enforces this perception. May I suggest they grow up and accept that in a "mature" democracy differences of opinion, and the ability to voice them, are not only allowed but actively encouraged.
Stuart Allan. Flat E, 8 Nelson Street, Dundee.
Pinprick on a global scale
Sir, In The Courier article "Renewables body defends industry" (December 15), when defending the desecration of Scotland's treasured landscapes by thousands of wind turbines, Joss Blamire of Scottish Renewables is quoted as saying that these "are helping to tackle climate change by displacing 10.9 million tonnes (MTe) of carbon dioxide every year".
It might benefit readers to get some perspective on this claimed, but never measured, carbon reduction. Since 2000, China's carbon emissions have risen from about 3000 MTe to 10,000 MTe, namely around 500 MTe per year. Hence the annual reduction of 10.9 MTe in carbon emissions claimed by Mr Blamire corresponds to the emissions China is adding every eight days!
Not only is the emissions reduction claimed for these turbines but a pinprick on a global scale, but the subsidies we are all paying for the intermittent electricity they generate are ramping up our electricity bills and causing ever more households to endure fuel poverty.
GM Lindsay. Whinfield Gardens, Kinross.
Bring back humanity
Sir, It was horrific to read last week that so many people in Kirkcaldy are having their benefits sanctioned and for such frivolous and inappropriate reasons.
I've also been following the debate about food poverty and why people are having to resort to using foodbanks. It's all the fault of people who haven't bothered to learn to cook or the supermarkets who are wasting food, according to the politicians who find it all too uncomfortable to confront. If you read the report published by the foodbank people themselves, the majority of people coming to them for help are those who've had their benefits sanctioned, or who haven't received their benefits on time.
Just what type of society have we become when in the sixth richest country in the world, people who have committed no crime other than to be without a job, are being reduced to near destitution.
While the rest of us are running ourselves ragged buying everything in sight, we should maybe sit down and think about what our priorities should really be.
What about that everyone should have the wherewithal to have a roof over their heads, be warm, fed, have a job if that's appropriate for them and have dignity and happiness? Pretty basic I would say. Sanctions, zero-hours contracts, workfare, Atos assessments should all be put in the bin.
My placard for 2015 reads: Bring back humanity.
Maureen Closs. 1 Barassie Drive, Kirkcaldy.
Still think it's all so green?
Sir, Scientists from Kings College London say that burning wood generates particles that can raise the risk of heart disease, trigger asthma and shorten lives. Still think your wood-burning stove is "green"?
Add to this the fact that trees are being chopped down in America and Canada, turned into pellets and then shipped thousands of miles to the UK to be burnt in the Drax power station and you can really see just how non-green this is.
These are just two examples of jumping into "greenery" before adequate consideration.
Dan Arnott. St Brycedale Court, Kirkcaldy.
Playground language
Sir, I read the comment by Jenny Hjul and the letter by Iain G Richmond in The Courier (December 10), with a certain sense of distaste and fascination (as in the way one comes into eye contact with a snake).
Ms Hjul and Mr Richmond pressed all the right buttons (as far as they were concerned) and all the wrong buttons (as far as I was concerned) in their aggressive condemnations of Alex Salmond.
To be blunt they aimed to make me angry and they did. Fortunately not for long.
One man, even including his "puppet", is not the Yes movement. Why did they choose to ignore the events in Scotland since September 18, 2014?
Instead of slating Alex Salmond, using the most vile language, over and over again, it would have been a much more interesting read if they had been able to articulate why so many people like, admire and respect Mr Salmond and want him to remain in a central UK political role?
The two writers could then have made their political points as to why they disagree.
I reread the letter and the article and did some more thinking. What were they saying? They certainly used a lot of words to say: "I hate Alex Salmond."
I recalled a famous quote by Margaret Thatcher, who said: "I always cheer up immensely if an attack is particularly wounding because I think, well, if they attack one personally, it means they have not a single political argument left."
These writers thought they were making political statements, yet they have failed spectacularly.
"I hate Alex Salmond" is the language of the junior playground and bears no relationship to a political discussion in any way, shape or size.
Mary C Baxter. Strathord Cottage, Perthshire.
Utterly boring time of year
Sir, In response to your recent article, Elderly fear lonely time (at Christmas), wouldn't it be a good idea to keep some services running eg. buses, trains and even cinemas like they do in other European countries?
When I lived in Switzerland, one Christmas day I caught a train to a ski resort (everything was open) and on New Year's Day I caught a bus into town and watched The Hustler, an old film starring Paul Newman.
For two days at Christmas and two at New Year, Britain shuts down. It is an utterly boring time of year, orchestrated to make people feel as lonely as possible. Last year I avoided all media and wrote a book.
Moira Brown. Gray Street, Broughty Ferry.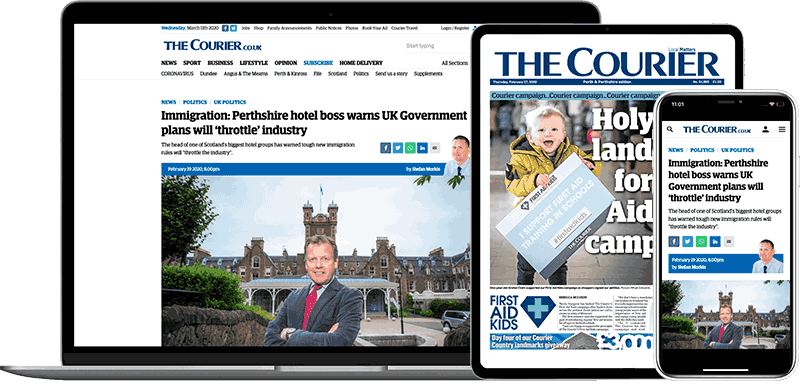 Help support quality local journalism … become a digital subscriber to The Courier
For as little as £5.99 a month you can access all of our content, including Premium articles.
Subscribe