 Sir, We were delighted to see Scottish Government proposals to cut youth unemployment by 40% in the next seven years, as outlined in its youth employment strategy (December 16).
Unemployment among young Scots accounts for almost half the country's jobless total and nearly one-fifth of youngsters are unemployed.
A culture shift is required, moving away from academic subjects towards skills directly relevant to getting a job through greater emphasis on vocational training in schools.
Forging links between schools, colleges and employers, as recommended by Sir Ian Wood in his commission earlier this year and highlighted in this strategy, is, therefore, exactly the right way to go.
As pupils who have just completed a work placement with the Scottish Government, tailored specifically for those with additional support needs, this approach is to be applauded, equipping us with experience of the world of work.
We would also encourage employers to take on those with additional support needs or risk missing out on a massive pool of talented individuals.
If we are to achieve this ambitious target to cut youth unemployment it will require not only the public sector but also, more crucially, employers to step up to the mark and fully play their part.
Ross McElvenny (16). Kieran Cruden (16). Falkland House School.
Some good at last . . . ?
Sir, Kenny MacAskill released Abdelbaset al Megrahi on compassionate grounds in the summer of 2009 a year after the Libyan had been diagnosed with advanced prostate cancer.
Medical advice was that by then he had only three months to live but when he was still alive almost three years later there was outrage from the US and accusations of a political fix.
But the reasons for his longevity were in fact quite simple his oncological treatment in the Tripoli medical centre was much more advanced than anything available in Scotland.
Even today we only use abiraterone as a "last line of defence" after chemotherapy has failed, but the Libyans had discovered it was much more effective if used pre-chemo.
London's Institute for Cancer Research has finally checked the Libyan procedure, found it to be correct and published their results in the New England Journal of Medicine. It will be many months before NICE gives this procedure the green light but at least some good has finally
come out of the disquieting investigation of the Pan-Am bombing.
Dr John Cameron. 10 Howard Place, St Andrews.
Made to feel like a burden
Sir, I was dismayed by your front page headline on Tuesday Financial time bomb for ageing Perthshire. The inference appears to be that the elderly are the root of all PKC's financial problems.
Perhaps it is time for younger folks to realise that the majority of people in the 65-plus age group worked very hard all their lives and contributed an awful lot in taxes and NI and rarely relied on state benefits.
They also made great sacrifices to give their children the education and opportunities they themselves never had. Many continued to do so after retirement either doing voluntary work or as unpaid childminders.
Particular mention was made of the 75-plus age group. I worry that if the attitude that seems to prevail towards the elderly continues I may not be allowed to reach 75. I foresee a time when we'll be told: "Your usefulness is over. You are now a burden. Say goodbye to anyone who still cares, then take this pill."
Come on, folks. Give the older generation the respect they deserve and allow them to live out their twilight years with some dignity. Don't suggest they're a burden and don't blame them for the country's financial ills.
Aileen Reid. 2a Sidlaw Terrace, St Madoes, Perth.
Setting record straight . . .
Sir, With reference to the letter of former councillor, Bill Sangster, published in your columns on December 3, I wish to take this opportunity to set the record straight in relation to the defamatory allegations it contained.
The image used in my leaflet that he refers to was not one commissioned by Hermiston Securities Limited the owner of the Pipeland site in St Andrews that has been identified as the location for a new Madras College nor do I have any inappropriate relationship with that company.
The clear inference that Councillor Bryan Poole and I have such an inappropriate relationship with that company is defamatory.
Mr Sangster's comments would appear to be a desperate and pathetic effort to damage my reputation.
Councillor Brian Thomson. 9 Forbes Place, St Andrews.
An uplifting experience
Sir, Dundee University's performance of Handel's Messiah in the Caird Hall recently was yet another of the many good musical efforts made to enhance our city's cultural scene.
The chorus and orchestra (made up of students backed by some graduates) numbered about 100. It was a most gratifying effort, using the original, debut edition from 1743.
I feel sure that everyone involved, particularly the younger students, will never forget the uplift of singing this inspiring music together under the expert and refreshing direction of Graeme Stevenson.
I should know, as I am a mature graduate who sang among the altos.
Dr Norma H Smith. 7 Adelaide Terrace, Dundee.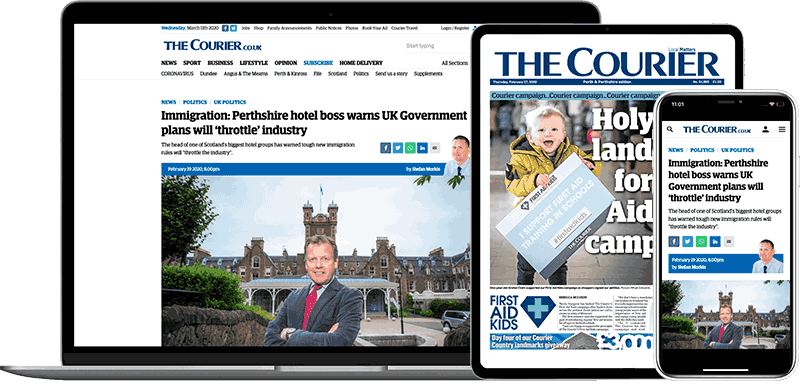 Help support quality local journalism … become a digital subscriber to The Courier
For as little as £5.99 a month you can access all of our content, including Premium articles.
Subscribe